Salvatori is an award-winning Italian design company specialising in natural stone. Drawing on the very best of Made in Italy values and cutting-edge engineering and technological know-how, Salvatori fuses old-fashioned craftsmanship with contemporary design.

Whilst many of Salvatori's products are the result of partnerships with internationally noted designers, what lies at the heart of Salvatori is a deep- rooted passion and respect for the inherent beauty of natural stone, and its defining characteristic: that no two pieces can ever be identical, meaning that every single product has its own unique history.
Explore the innovative textures for walls and floors by Salvatori:
Bamboo
Ideal for floors and walls, the elegant ridged surface of Bamboo evokes the clean and simple lines of the tree it was named after. The fluidity of its lines brings a restful and harmonious touch to environments from bathrooms to lobby spaces, from living rooms to spa areas. Created in 2003 by Gabriele Salvatori and his father, Alfredo, Bamboo is a perennial favourite thanks to its simplicity and versatility.
Lithoverde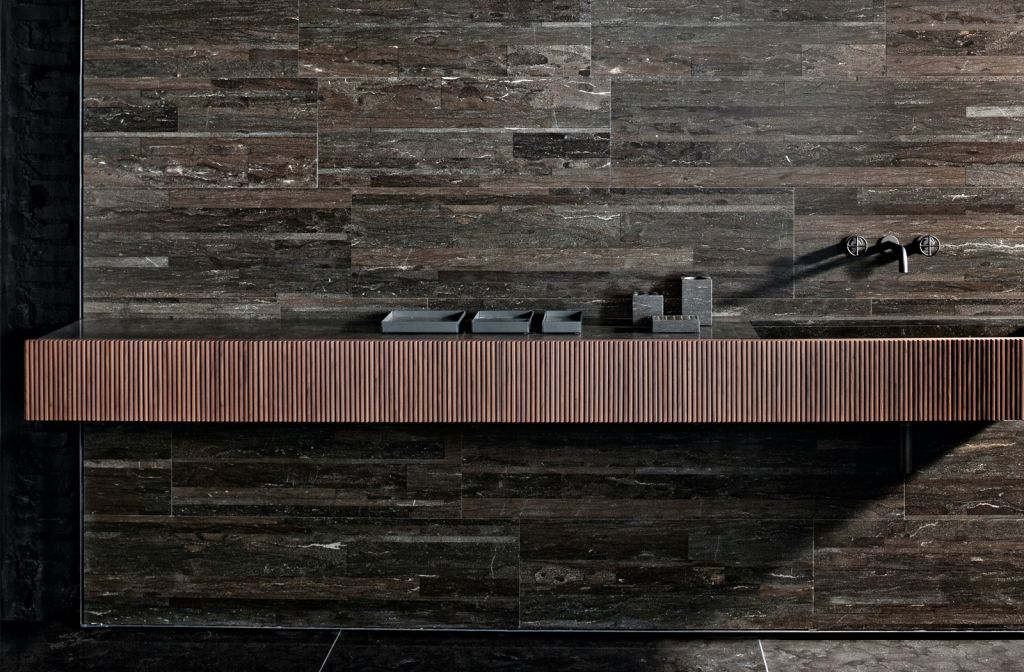 Exclusive to Salvatori, Lithoverde® is the world's first recycled stone texture. Not only is it environmentally-friendly, but it is also a beautiful texture with every block resulting in a unique pattern. British architect John Pawson was among the very first to appreciate its beauty and potential, building his renowned Stone House entirely in Lithoverde® for Milan's 2010 Salone del Mobile. 99% composed of offcuts, with the remaining 1% comprising a natural resin which acts as a binder, Lithoverde® contributes to LEED® rating points (established by the US Green Building Council) and has been validated by SCS (Scientific Certification Systems), leaders in the independent certification of environmental sustainability. It has also won a number of awards both within Italy and abroad, for innovation and its positive contribution to the environment.
Ishiburo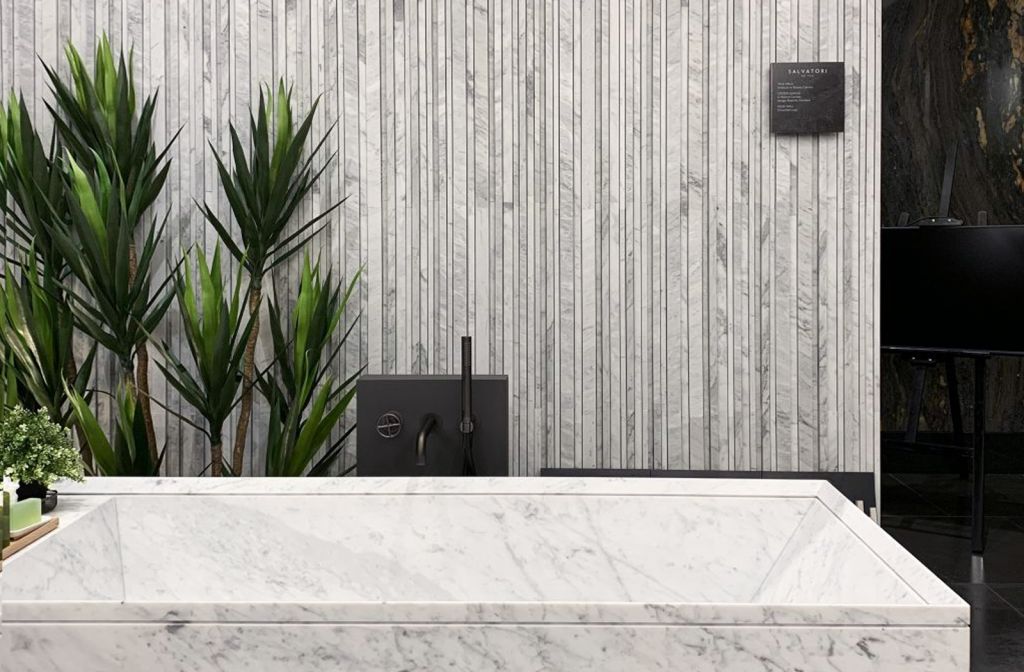 Designed for Salvatori by renowned architect and designer Kengo Kuma as part of his Ishiburo bathroom collection, Ishiburo's seemingly haphazard placement of stone "batons" come together to create an angular harmony.
Chevron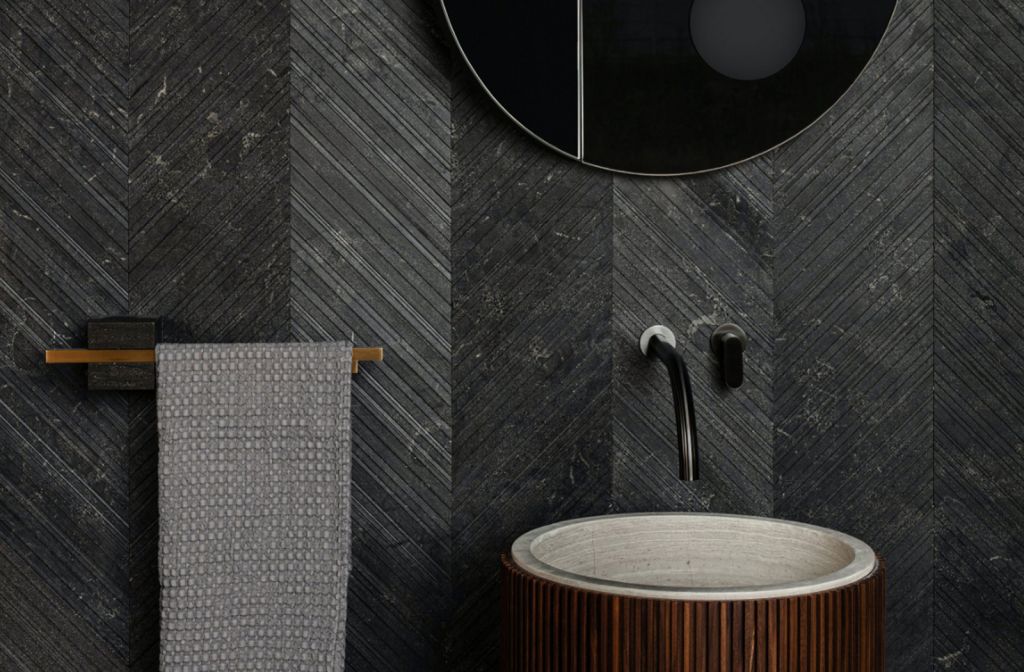 Designed for Salvatori by Piero Lissoni, this finish was inspired by the idea of reproducing the eponymous fabric in stone. Lighting significantly enhances the beauty of Chevron: the textured motif creates an elegant shadow effect when paired with the right illumination. The process which creates Chevron tiles is designed to preserve the natural aesthetic qualities of the stone. As a result of this, the tiles may not be perfectly identical; however this non-uniformity is intrinsic both to the texture and the natural stone itself.
Cuscini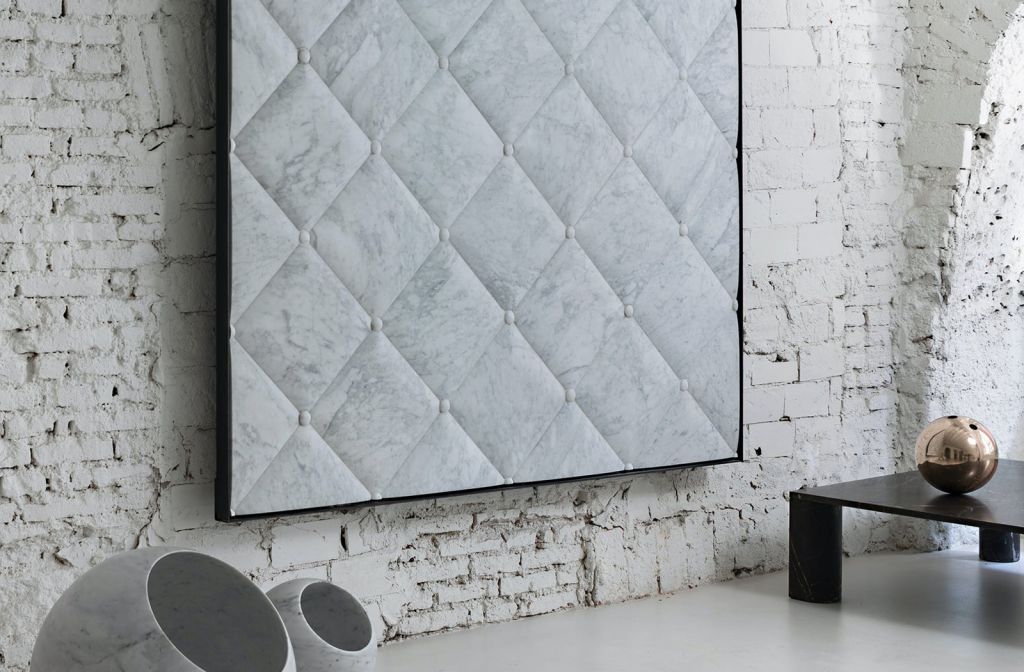 In Italian, the word "Cuscini" means cushions and this texture is designed as a juxtaposition of the softness of a cushion and the hard material of stone. Designed by Ron Gilad, Cuscini displays the versatility of natural stone and can be installed as a feature wall or as a piece of art in its own right. Cuscini tiles are packed in sets of four, completed by a stone "button", which creates the cushion effect.
Make an appointment with us now at The Stone Gallery to view the beautiful collections of Salvatori:
The Stone Gallery
18 Sungei Kadut Street 2
World Furnishing Hub, Level 7
Singapore 729236
by appointment
Mon – Sat : 9am – 6pm
T: +65 6219 3323
E: thestonegallery@hafary.com.sg
Information above adapted from https://www.salvatori.it/