Continue your journey in this little oasis, where you are encouraged to get in touch with your sense of tactility.

Give in to your sensory yearning – go on, explore and unearth the countless stone and tile swatches hidden within the space. Be awed at how large format tiles can transform and invigorate an everyday space into an extraordinary experience.
Space & Materials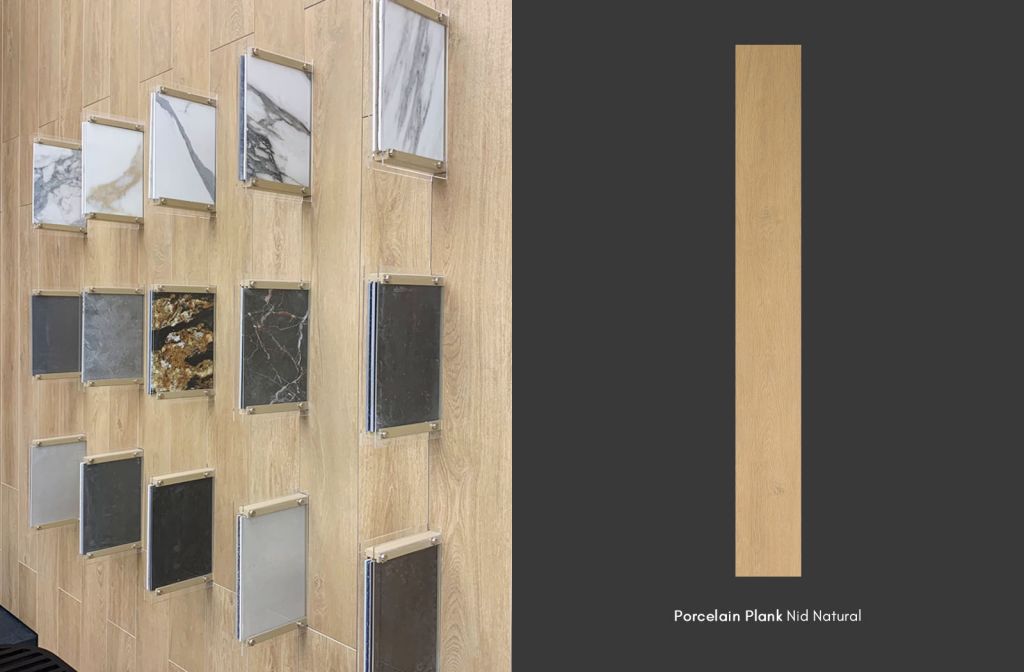 Wall: Porcelain Plank, Nid Natural by Atlas Concorde
A cozy and welcoming atmosphere is desired for the home, as well as hospitality and wellness environments. The balanced elegance of oak-effect porcelain tiles finds its maximum expression in projects that focus on authenticity and naturalness.
The Nid porcelain tile collection is inspired by the essence of natural oak in its purity, which is then expressed in an elegant, sophisticated, contemporary and versatile range of colors.
The raw look brings out the essential nature of the oak, making the collection ideal for the design of authentic spaces. Perfectly versatile, it combines with stone and concrete-effect materials as well as with color accents.
Find out more about Nid.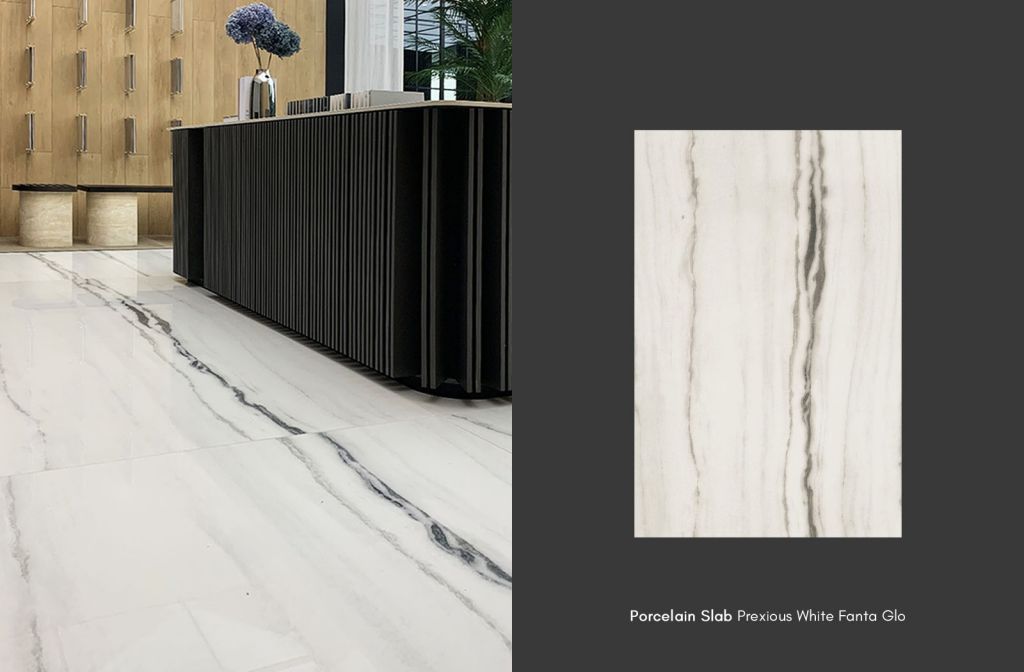 Floor: Porcelain Slab, Prexious White Fanta Glo by Florim
The pinnacle of elegance and undisputed queen of covering materials, marble is given new life in this porcelain tile collection. Starting from carefully selected, rare examples of marble, the colours and veining have been re-interpreted with all of Rex's technical skill and creativity, and transformed into highly evocative panels of inimitable elegance. The design was conceived to reveal harmonious patterns when the panels are placed next to each other over large surfaces, as do the textures.
Find out more about Prexious White Fanta Glo.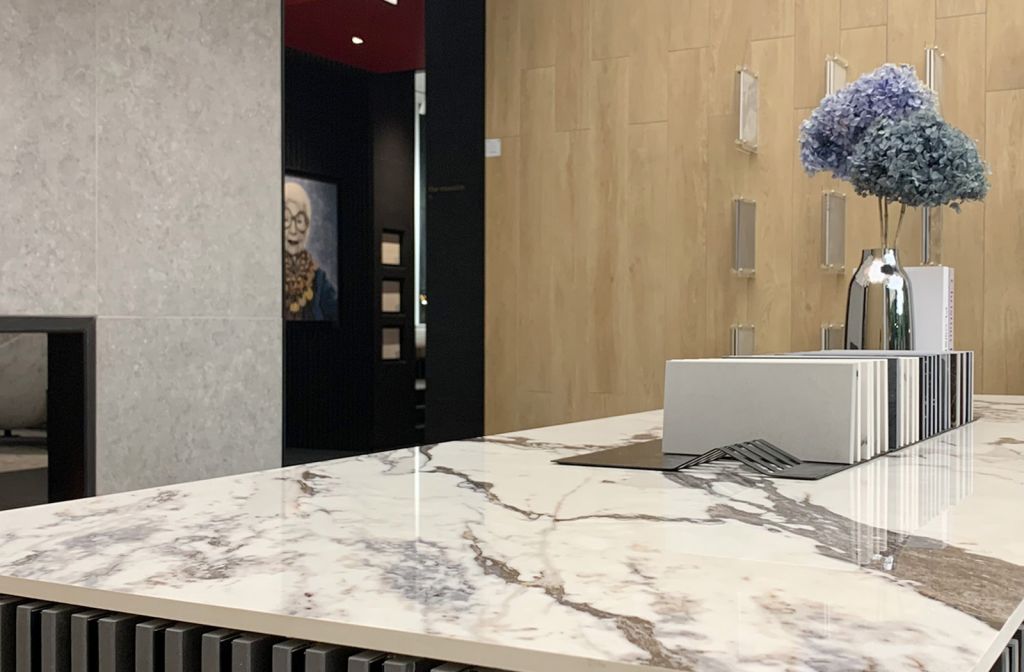 Countertop: Porcelain Slab, GR.M Capa Lx 12 by Marazzi
Grande gets even bigger: new marble inspirations, new sizes, and amazing flatness and versatility for the Marazzi porcelain slab collection that keeps on broadening its horizons. More stylish and eclectic than ever, Grande is the ideal ceramic material for free, adaptable, virtually infinite architectural design. It delivers previously unthinkable effects of visual continuity or discontinuity, in indoor and outdoor spaces, and even greater application potentials for tailor-made projects.
In the age of the digital reproducibility of nature, the veining and subtle shade variations of the choicest marbles are given new life with greater clarity and sustainability.
Find out more about Grande Marble Look.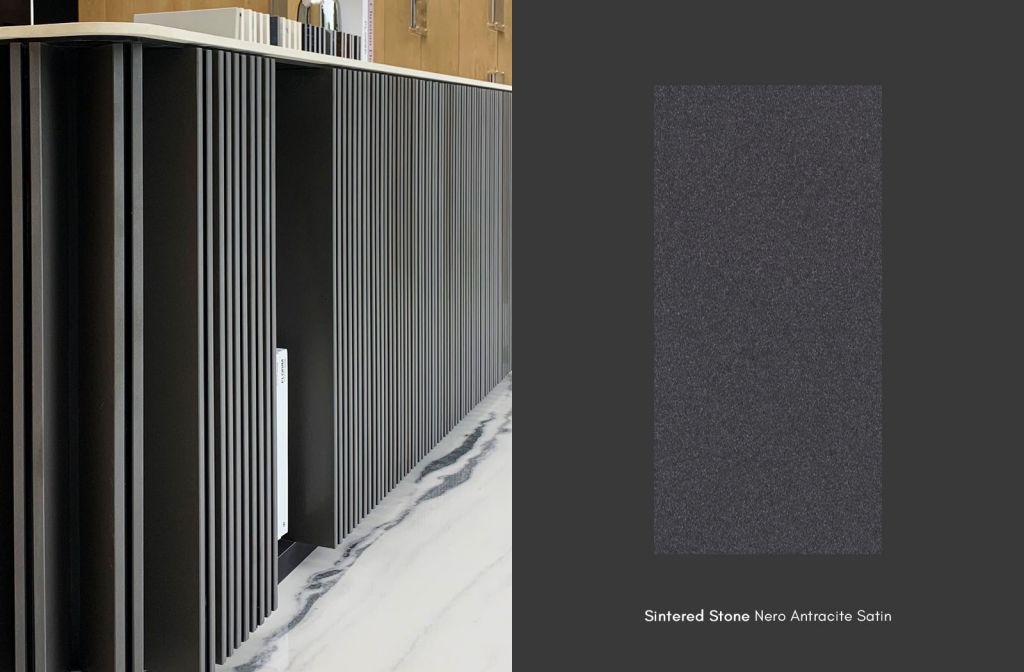 Island Screen: Sintered Stone, Nero Antracite Satin by Lapitec
From Lapitec's Essenza collection features all monochromatic colours. Its name expresses Lapitec's identity: solid, linear and firm shades not only on the surface but also on the inside of the slab.
Satin is a refined matt finish and is created through exclusive mechanical machining of the Lapitec slab surface, making it soft to the touch and bringing to mind the special consistency and elegance of silk.The Satin finish is suitable for both interior design projects and outdoor solutions.
More details of Lapitec's Essenza selection here.
-
Enter the next zone: The Mansion – Living & Dining
Or, explore other spaces of the new Hafary Gallery:
The Apartment - Dining + Kitchen & Study