Step in and be transported into a modern colonial arcade exuding understated luxury.

The arched walkway stretches beyond, encouraging you to step in and explore its cosy enclaves. Every room has been carefully crafted to showcase an exquisite stone or tile – some in unexpected, inconceivable shapes.
Think of how material can be used to define a space through a singular experience – be it a striking floor motif, a dramatic feature wall, or even a monolithic fireplace crafted entirely from stone. Take your time to savour the experience each nook offers.
Space & Materials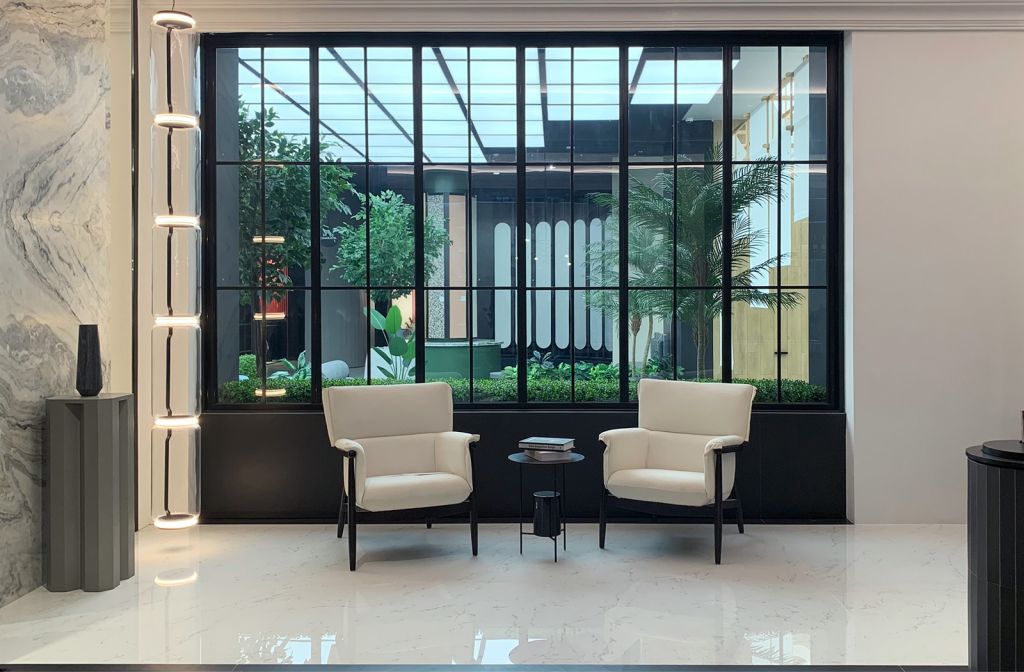 At the Living Room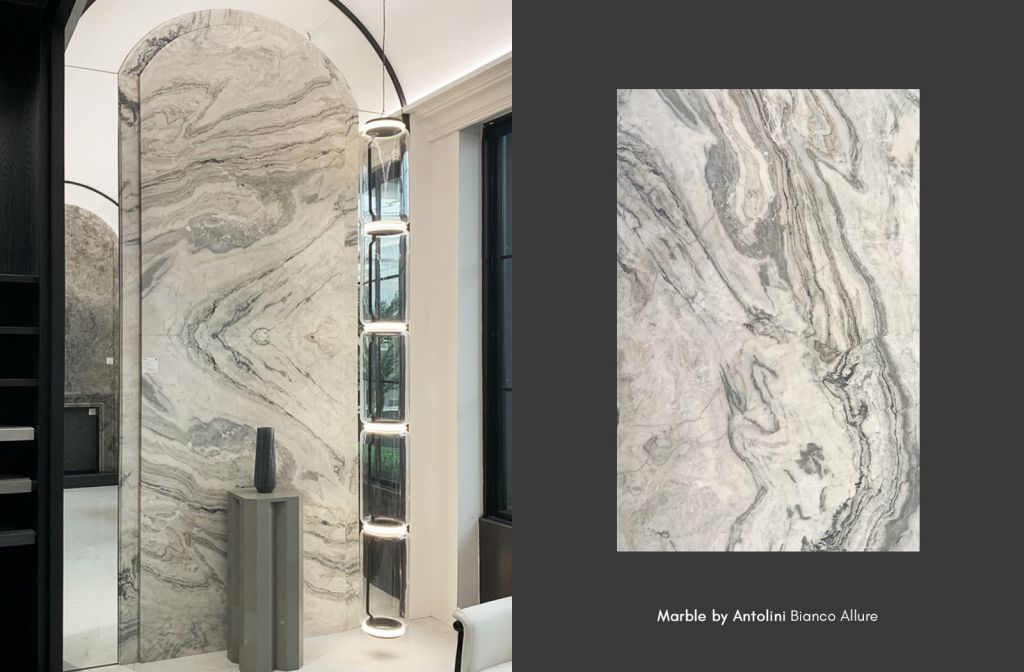 Feature Wall: Marble, Bianco Allure by Antolini
Natural stones retain a timeless beauty. Highly sought-after materials from all over the world make rooms special and create a magnificent, stylish feel. Here, the marble Bianco elegantly furnish, with harmonious shades laid in bookmatched. For stylish decorating and striking effects.
Find out more about Antolini's selection of marble here.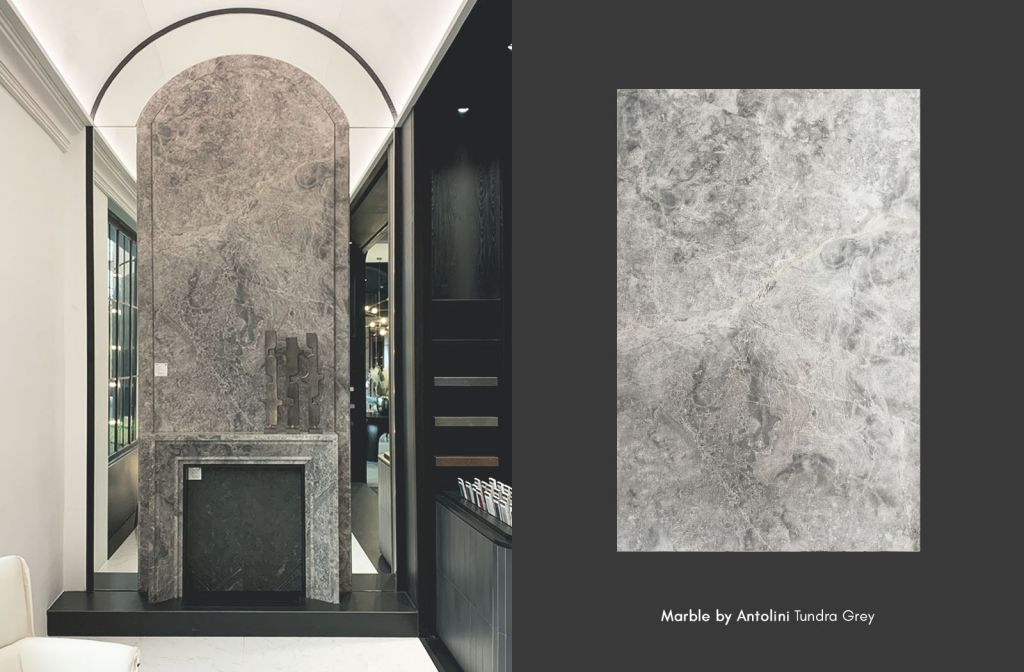 Feature Wall: Marble, Tundra Grey by Antolini
The Tundra grey marble enriches the room as a result of unique workmanship carried out using innovative technology. The marble features a leather finish that provides texture with a soft sheen. The overall effect is a soft organic look.
Find out more about Antolini's Tundra Grey.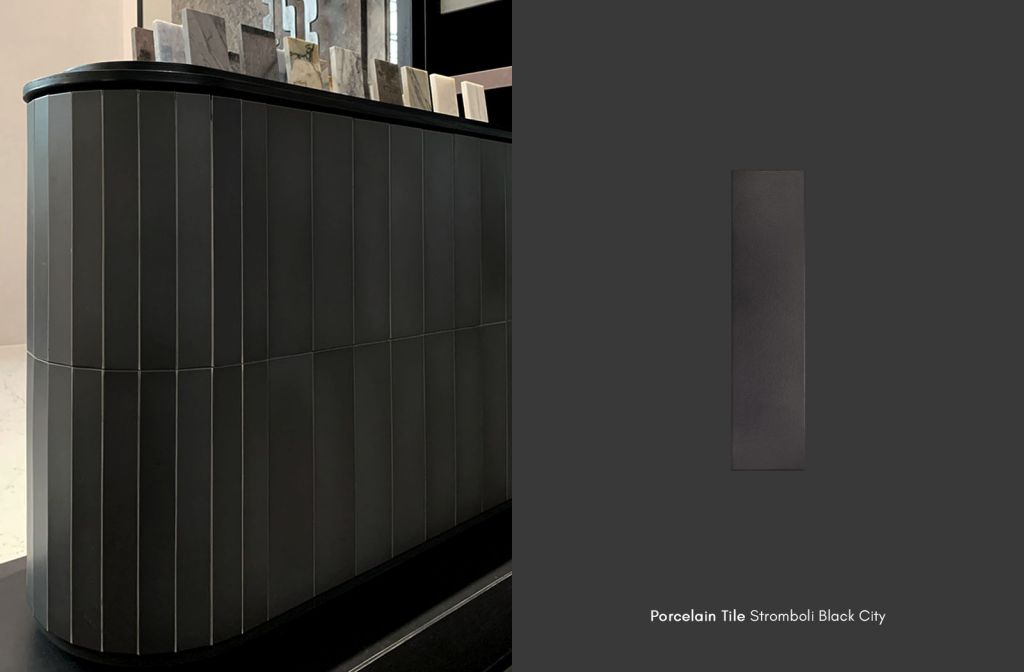 Console: Porcelain Tile, Stromboli Black City by Equipe Ceramicas
Like a magnified subway tile, the Stromboli tile collection is set in a characteristic rectangular shape. The tile collection enables one to play with unlimited layout compositions – with installation patterns or by matching colours with the rest of the collection.
Find out more about Stromboli.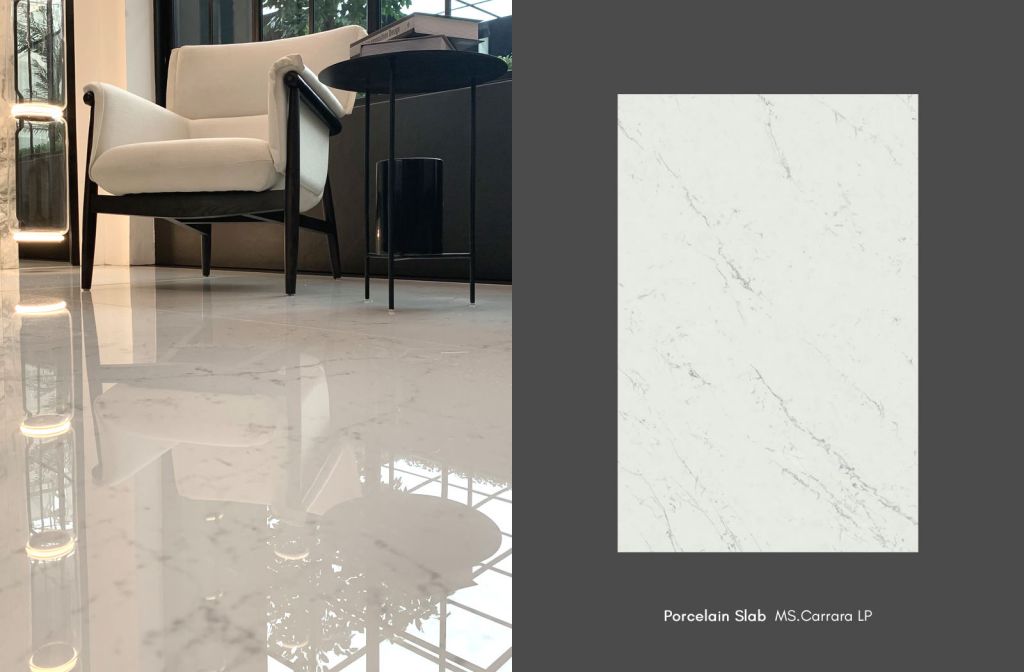 Floor: Porcelain Slab, MS. Carrara LP by Atlas Concorde
MS. Carrara LP from the Marvel Stone tile collection allows you to create areas where the elegance of prestigious surfaces inspired by marble is re-interpreted in a contemporary key by introducing the minimalistic simplicity look of stone.
Extraordinary surfaces inspired by marble and stone are placed harmoniously together; exciting combinations of materials are paired with a palette of hues in gloss and matt finishes.
Find out more about Marvel Stone.

At The Mansion Dining, Floor: Porcelain slab, Onyx&More White Onyx Glo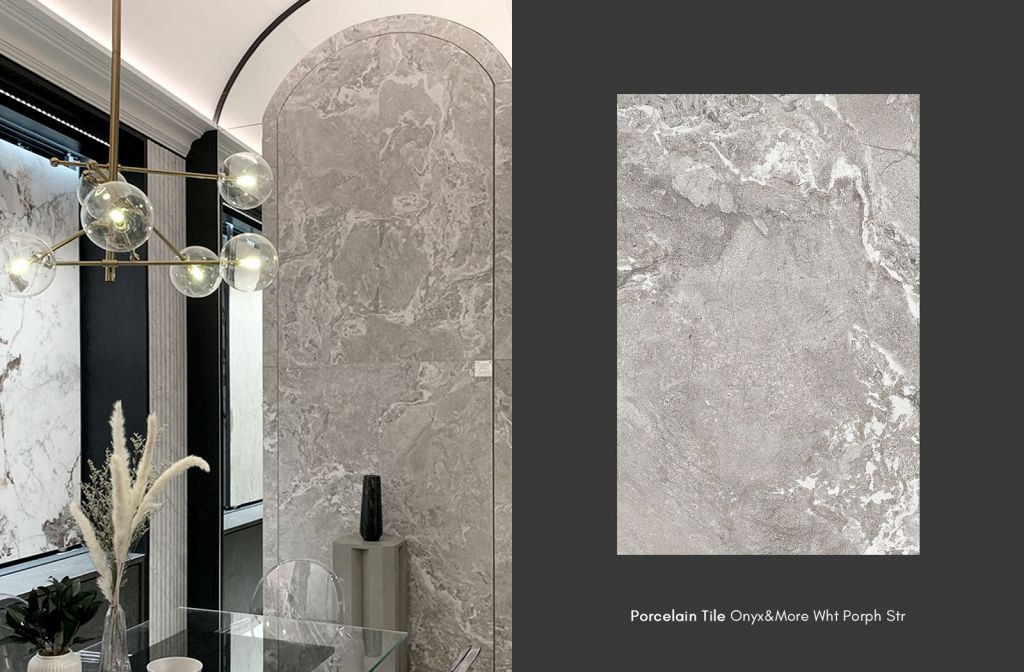 Feature Wall: Porcelain Tile, Onyx&More Wht Porph Str by Florim
Onyx&More tile collection explores the unexpected elegance of onyx: refined, luminous, and poetic, naturally embellished with porphyry, an unobtrusive and informal stone material. From nature, mysterious and unpredictable, born a collection surging with expression that plays with the harmonious contrasts and the chromatic blend that only nature can create.
Find out more about Onyx & More.
-
Your next destination awaits at The Apartment - Dining + Kitchen & Study.
Or, explore other spaces of the new Hafary Gallery: