From Italy, FLORIM stone sintered surface countertop provide creative flexibility and high technical and aesthetic performance. The quality of the material, attention to detail and technical performance are guaranteed by sixty years of Florim experience.
Why Choose Florimstone?
1. WIDE RANGE OF STYLES
Using the most modern instruments, technologies and processes, FLORIM stone offers interior decorators creative flexibility and high technical and aesthetic performance.
The neutrality of a single colour, the elegance of marble or the extravagance of metal, FLORIM stone is a perfect fit for any design aesthetic.
2. FIBREGLASS REINFORCED
Every slab of FLORIM stone is tightly bonded with fibreglass mesh to respond effectively to stress resistance and breaking strength demands.
3. BACTERIA RESISTANT - HYGIENIC SURFACE
FLORIM stone is characterised by very low porosity. Its impermeability restricts the proliferation of bacteria.
FLORIM stone brands products are NSF (National Sanitation Foundation – Food Equipment Materials) certified and therefore suitable for use in direct contact with food and food moisture.
The NSF brand is recognized worldwide for the high quality standards of the products and thanks to this certification, the materials intended for contact with food and drinking water are considered safe.
4. UV RESISTANT
FLORIM stone can be used for both indoor and outdoor environments as it is resistant to UV rays. Constant exposure to solar rays does not alter its colour as the material is free from resin.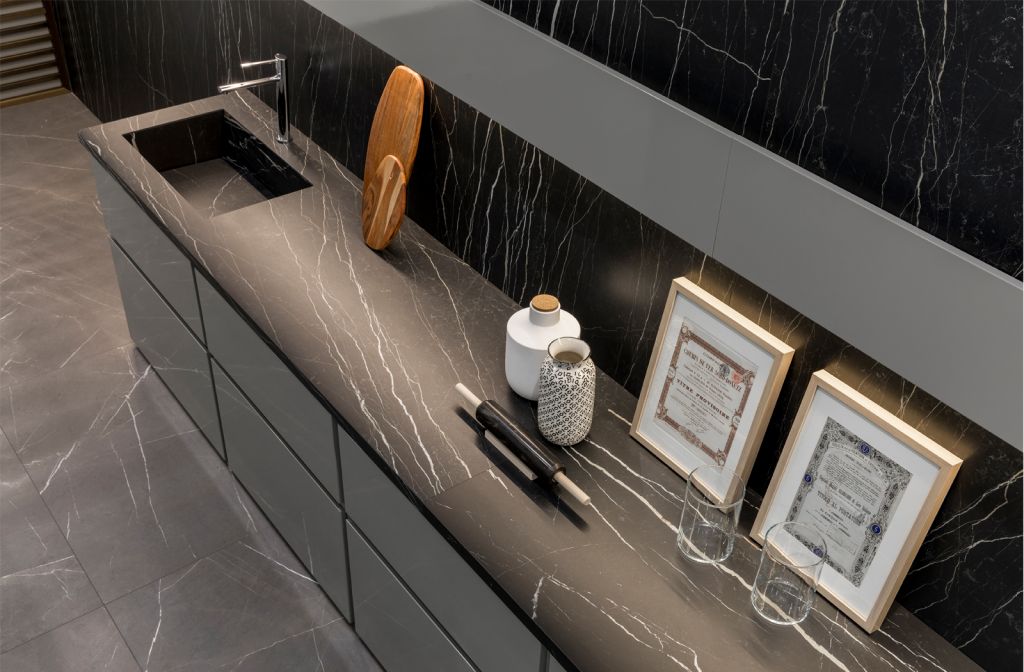 5. HEAT & STAIN RESISTANT
FLORIM stone is resistant to high heat, even the hottest pans.
With its non-porosity properties, FLORIM stone is also waterproof and stains does not get in the way.
6. EASY CARE & MAINTENANCE
No regular sealing, conditioning or polishing is required. FLORIM stone can be cleaned daily with a damp microfiber cloth. For regular cleaning, use neutral liquid detergent with a soft sponge or microfibre cloth.
-
Choose the design & style of your FLORIM stone countertop here:
FLORIM stone Marble Design for countertops
FLORIM stone Colour Design for countertops
FLORIM stone Stone Design for countertops
FLORIM stone Metal Design for countertops
FLORIM Stone Cement Design for countertops