At the Hall of Tiles, we invite you into this space of a surreal sense of scale, and we challenge you to temporarily suspend your sense of belief and reality.

Engage your imagination and awaken the child within you, and push the boundaries of what tiles can be. Tiles need not be simply floor or wall coverings. Perhaps, think of them as standalone pieces of installation – framed as sculptural pieces that surprise any visitor to your space.
Inspiration
From the architects, Park + Associates
The Hall of Tiles was conceived to evoke a sublime experience through sheer scale – to temporarily suspend one's sense of belief and reality as he/she steps into the space and is greeted by towering layers of safari-inspired artwork. These are in fact large format tile that have been mounted as standalone pieces. Taking on a sculptural role, this installation suggests that tiles can be used as artworks or murals, showcasing its lesser-known capabilities. It is just one of the many moments in the showroom that pushes the boundaries of what tiles can be, beyond mere floor or wall coverings.
Space & Materials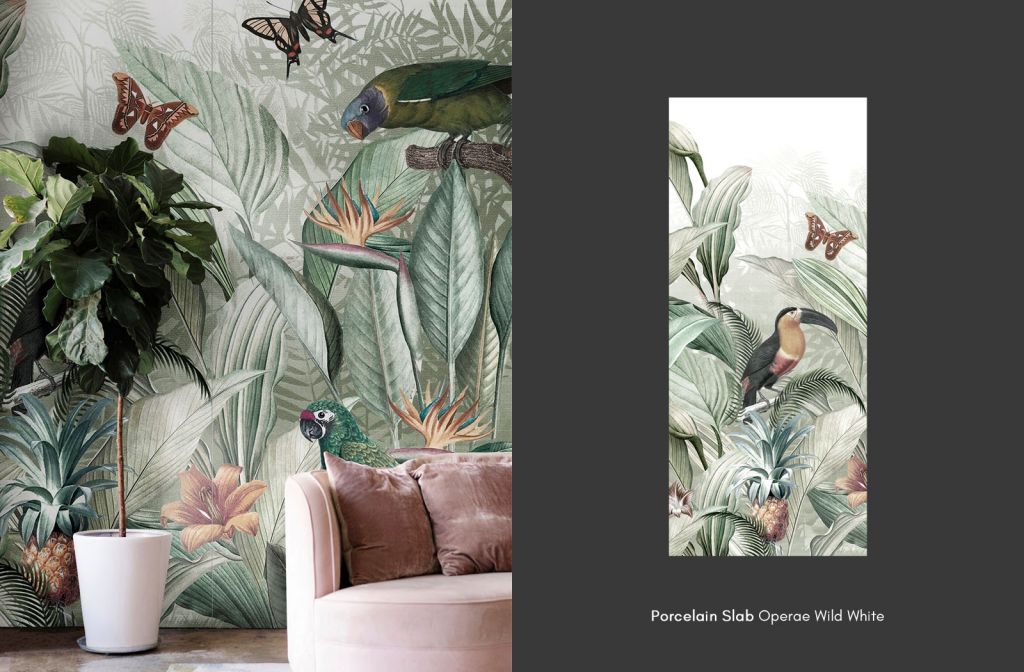 Panels: Porcelain Slab, Operae Wild White by Ornamenta
Operae marks the entrance of Ornamenta® in the world of large slabs. It is a program to create unique artworks by using the latest ceramic technologies - HD digital in cold glazes is the latest technology employed to create a top level look with brighter and more saturated colours.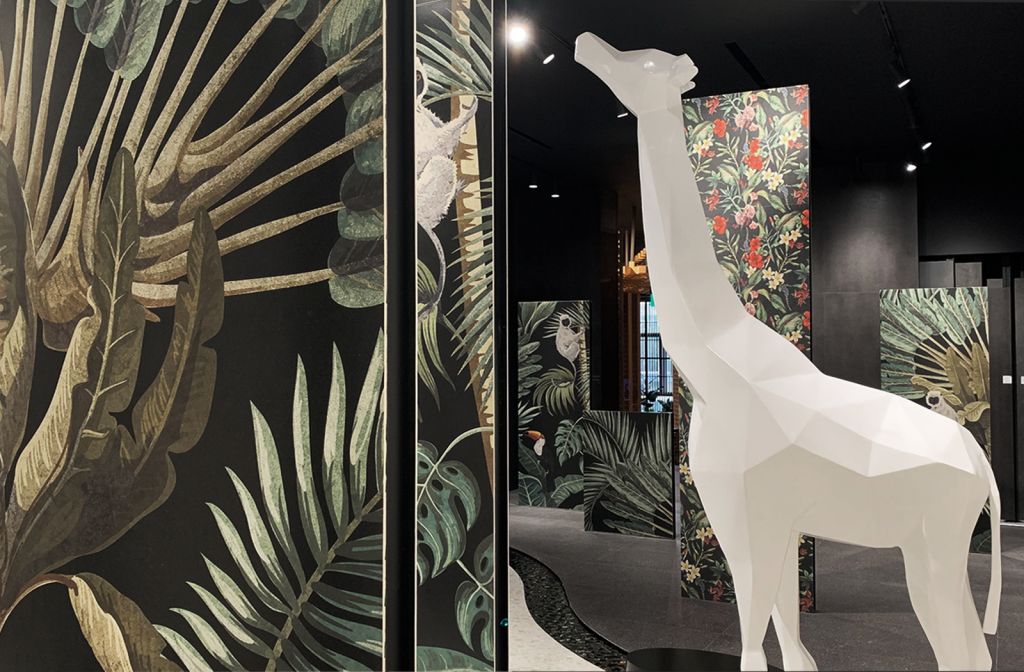 Panels: Porcelain Slab, Cityscape Safari Black by Ornamenta
In the search for a new closeness to nature, Cityscape was born, a collection whose goal is to bring together the beauty of nature and inserting it into the contemporary social context to make it more accessible.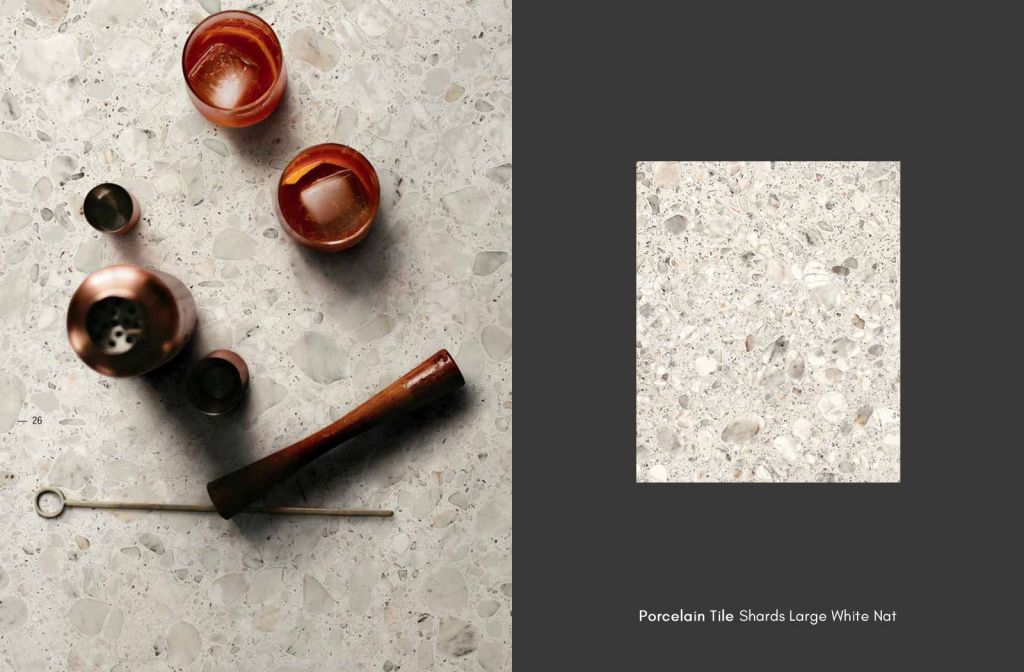 Floor: Porcelain Tile, Shards Large White by Fondovalle
Shards tile collection is inspired by Venetian terrazzo tiling, a great classic of Italian design, where fragments of stones, earthenware, and marble, mixed with cement and lime form a unique compound with an uneven appearance and variable textures.
Shards offers new style designs for those who love interior design solutions that impress, where the surfaces are the protagonists, combined with minimalist furniture and accessories with eclectic shapes.
Find out more about Shards.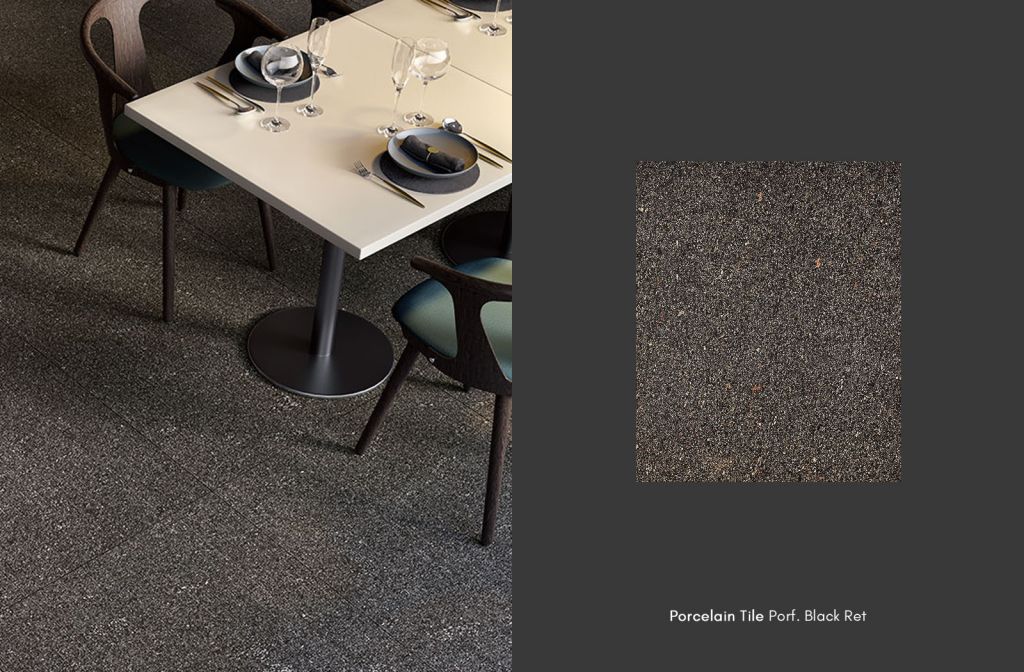 Floor: Porcelain Tile, Porf.Black Ret by Coem Ceramics
The name Porphyry comes from the ancient Greek meaning purple, a colour frequently found in this type of rocks, along with red, brown and grey. It is this rock that has inspired the Porfirica collection. Porphyry is a magmatic material formed by the cooling of lava flows. It has an extremely variegated, complex composition, on which is created a "porphyritic" (porfirica in Italian) structure that also comprises minerals and crystalline elements. This particular characteristic is featured in 2 patterns: a fine-grain version inspired by the original stone and a coarser-grain agglomerate. The stone-effect porcelain stoneware by Coem restores prestige and value to this stone.
Find out more about Porfirica.
-
Step into the next curated zone at The Villa – Living.
Or, explore other spaces of the new Hafary Gallery:
The Apartment - Dining + Kitchen & Study