Enter and be entranced by a playful amalgamation of textures and geometries. The small but cozy Hotel Rooms showcase how the use of muted stones and tiles, together with pops of colour, can bring any space alive. Do not allow yourself to be limited by materials, but only by your own imagination.

Space & Materials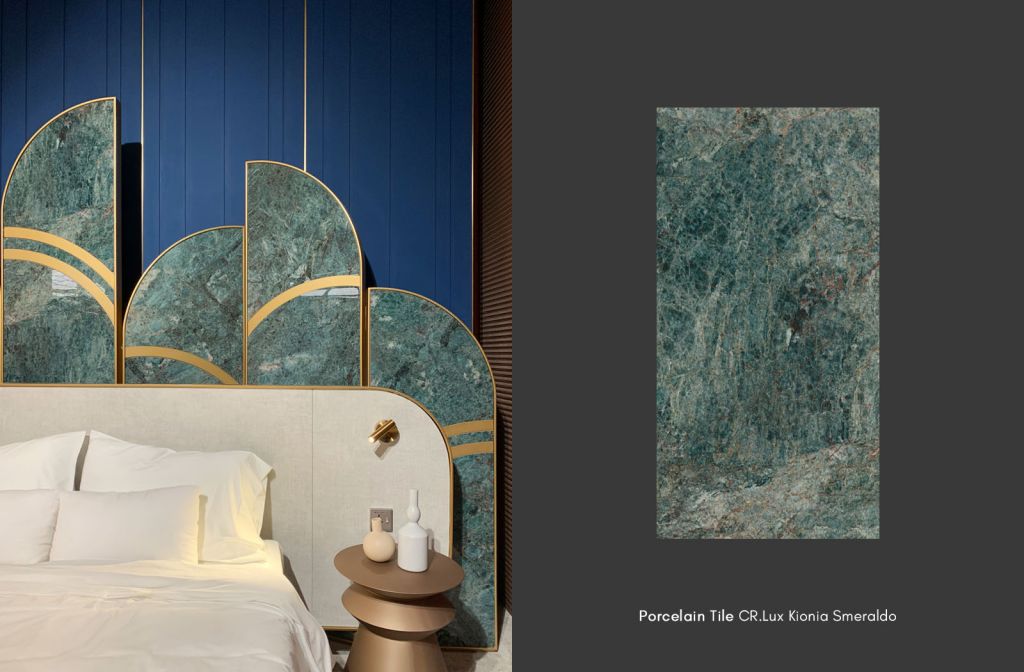 Screen/ Room Divider: Porcelain Tile, CR.Lux Kionia Smeraldo by Pamesa Ceramica
A burst of white veining set against an aquamarine background. This is Kionia, a tile series inspired by the Greek island of Panormos that will imbue any home with a sense of harmony and vitality.
Shifting the focus from minimalism to mighty force of geology makes for an interior design trend guaranteed to get heads turning. Dramatic interior is a trend with an essentially neoclassical influence, inspiring spaces with natural marble and stone effects. Stone hewn from the world's most prestigious quarries are the origins of this trend, characterised by marble effect designs featuring sophisticated patterns and bright and beautiful colours which, together with the precious stone effects, will become the focal point of any room. In an evocation of luxury and elegance, interior design creates dramatically theatrical spaces, applying state-of-the-art technologies and designs with granilla (a granular glaze) to reposition tiles at the forefront of contemporary interior design and decoration.
Find out more about Kionia.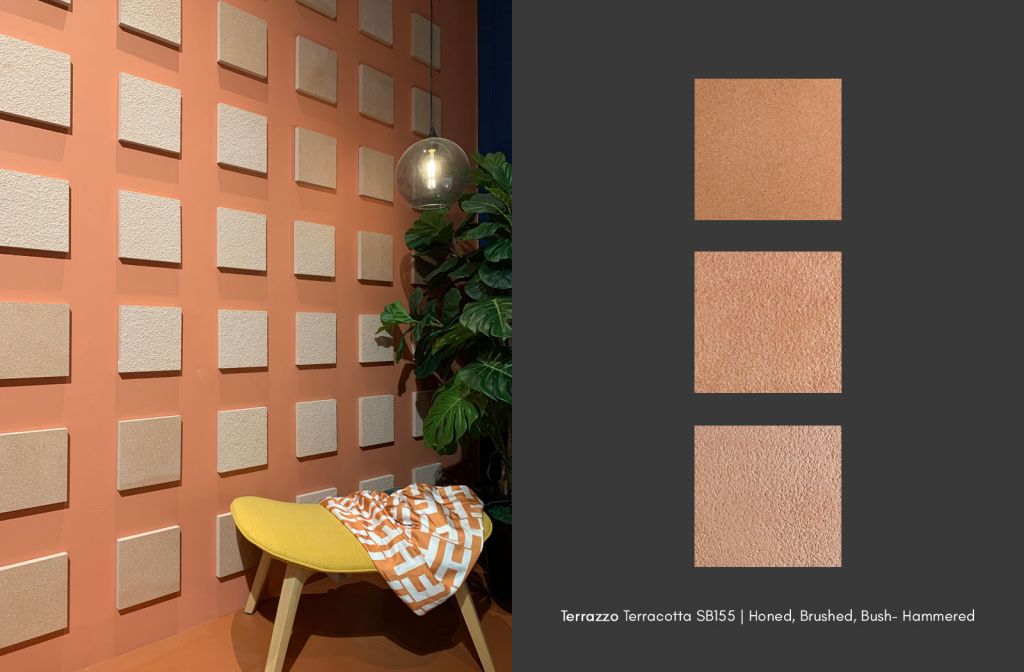 Feature wall: Terrazzo, Terracotta SB155 in Honed, Brushed and Bush Hammered finishing by Agglotech
An exclusive line featuring micro-chips of colored marble. Ideal for surfaces that allows appreciation in consistency of colour.
Agglotech terrazzo has a wide range of applications, including terrazzo flooring for large-scale spaces, terrazzo-clad staircases, exclusive interior wall cladding for shops and offices, and more!
By working the material directly from solid blocks of terrazzo, Agglotech is able to completely transform the terrazzo into a range of custom-sculpted shapes.
Find out more about Agglotech's terrazzo selection here.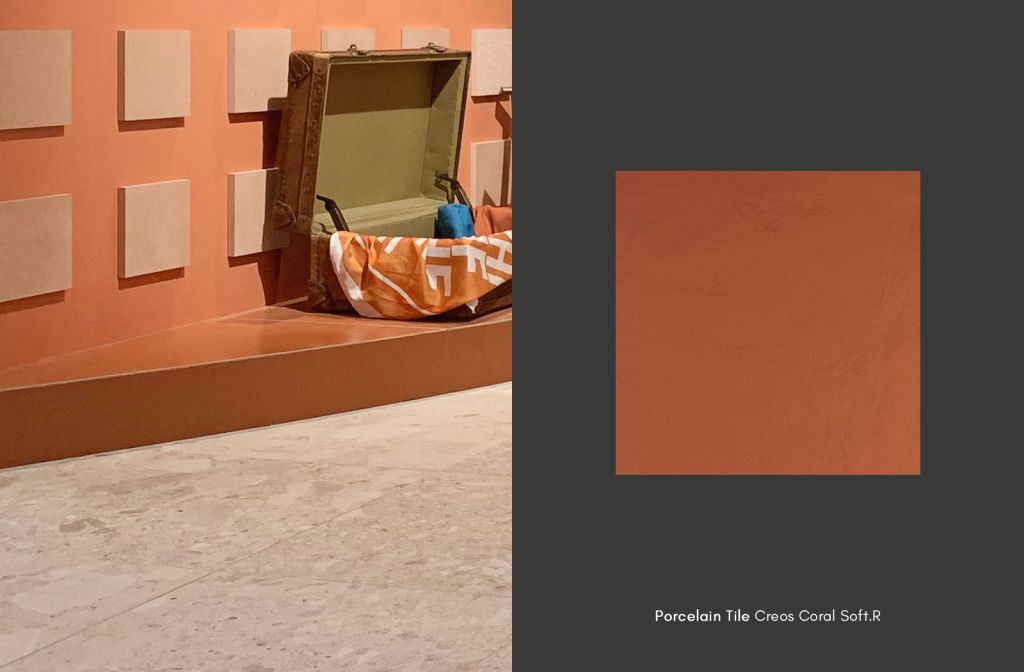 Raised Platform: Porcelain Tile, Creos Coral Soft.R by Ceramiche Refin
Surfaces that convey feelings of softness and depth: Creos reinterprets the most hand-crafted aspect of spatula-look resin thanks to a delicately shifting and irregular texture, distinguished by areas that are slightly polished and others that are more matt, typical of the resin drying process.
Coral, an unprecedented coloured variant, was designed to create settings with a bold expressive force.
Find out more about Creos.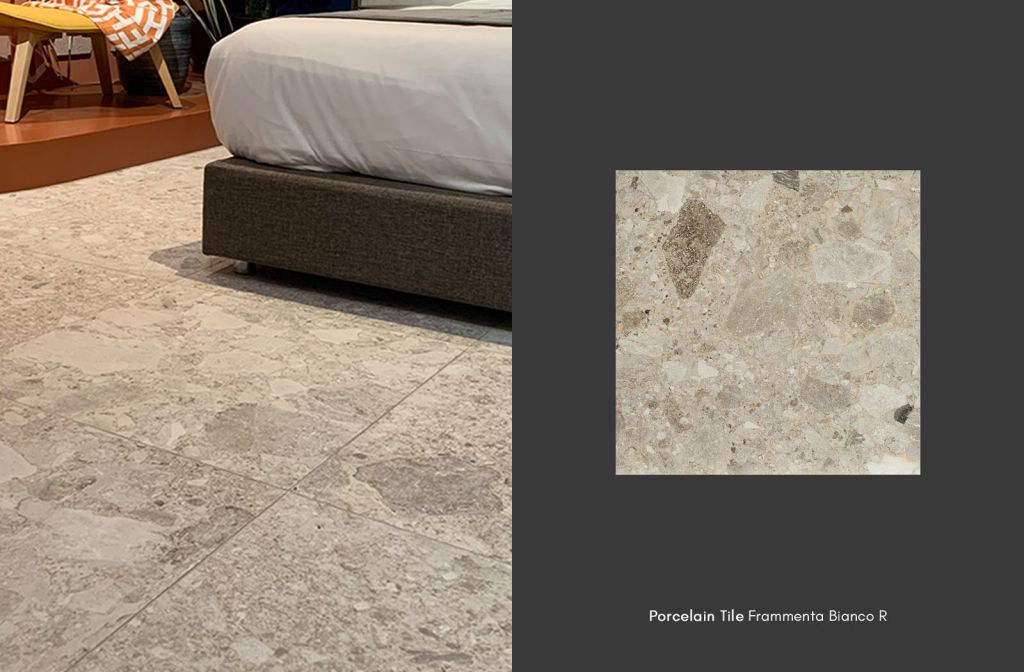 Floor: Porcelain Tile, Frammenta Bianco R by Ceramica Fioranese
An element and material typical of Milanese architecture, the Ceppo di Gre is mainly used for the external basements of Milanese buildings. It is an Italian rock found in the town of Gre, which translates precisely to "rock with pebbles".
Frammenta stone effect porcelain tile features evident irregular grains or pebbles, with a mix of mini and macro-stone patterns, which gives residential or commercial spaces, both indoor and outdoor, a striking and distinctive look.
Find out more about Frammenta.
-
Next, gather your thoughts at the Discussion Cave.
Explore other spaces of the new Hafary Gallery:
The Apartment - Dining + Kitchen & Study