Mimicking the stratification of natural stone formation, the Discussion Cave readies you for the rest of the journey through our showroom.

Leave any preconceived notions of stone and tiles behind, walk through the Discussion Cave and find yourself released into the Plaza to begin your experience!
Space & Materials
Table top: Marble, Les Quatre Saisons by Antolini
Les Quatre Saisons by Antolini is a breathtaking burgundy marble with a natural, large-scale pebbled patterning. This Italian stone is an ideal statement piece for a variety of indoor applications, such as table tops, feature walls and more.
Find out more about Antolini's selection of marble here.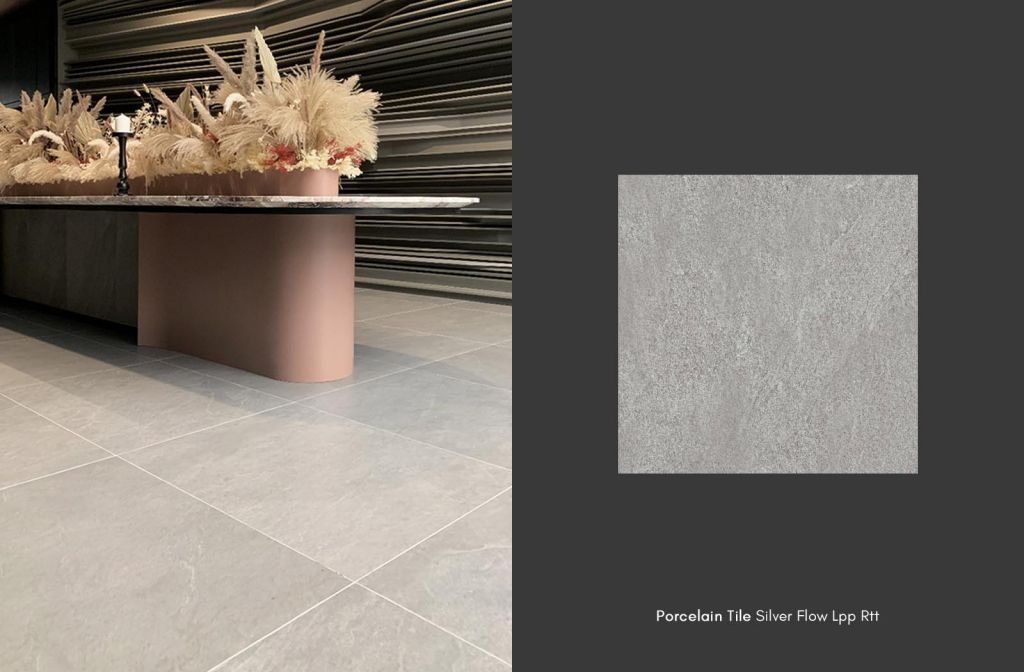 Floor: Porcelain tile, Silver Flow Lpp Rtt by Lea Ceramiche
Waterfall tile collection realistically and physical represents slate, an ancient and natural stone. Recreating, on the stoneware surface the iridescence typical of sedimentary rocks, Waterfall has texture, irregularities, and variations in colour, typical expressions of the passage of time. The colours, recalling the natural oxidation process of the stone, a material that is under continuous transformation, changing colour, shape and structure, and adapting itself to the evolution of natural phenomenon.
The Waterfall tile collection is enhanced by PROTECT®, an exclusive antibacterial technology by the Panaria Group. Partnering with Microban®, PROTECT® is an effective antibacterial shield incorporated in the product and eliminates 99.9% of bacteria from the surface.
Find out more about Waterfall.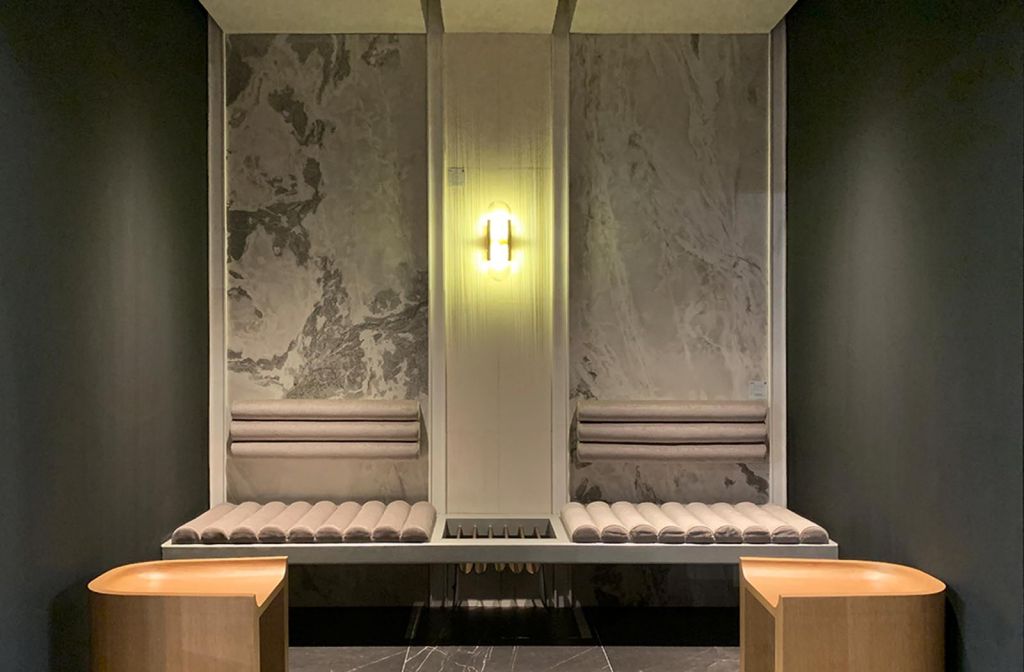 The Lobby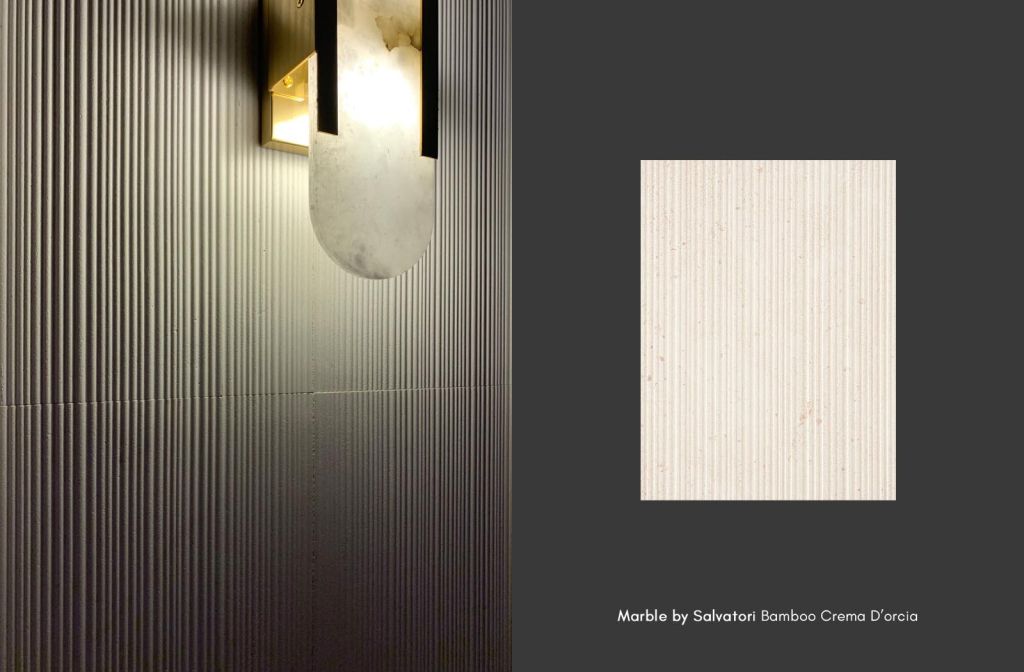 Feature Wall: Marble, Bamboo Crema D'orcia Select by Salvatori
With its minimalist appearance that evokes the clean, fluid lines of Oriental design, Bamboo is one of Salvatori's most popular and enduring textures. Inspired by the simple, pared-back forms of the Far East, it brings that sense of calm and harmony synonymous with centuries-old cultures and traditions that venerate the tiniest of details. The seamless grooved lines of Bamboo, running vertically or horizontally depending on preference, are ideal for any environment, with the tactile nature of gorgeous natural stone elevated by this classic, elegant design that is as contemporary today as when it was first introduced.
Find out more about Salvatori's Bamboo selection here.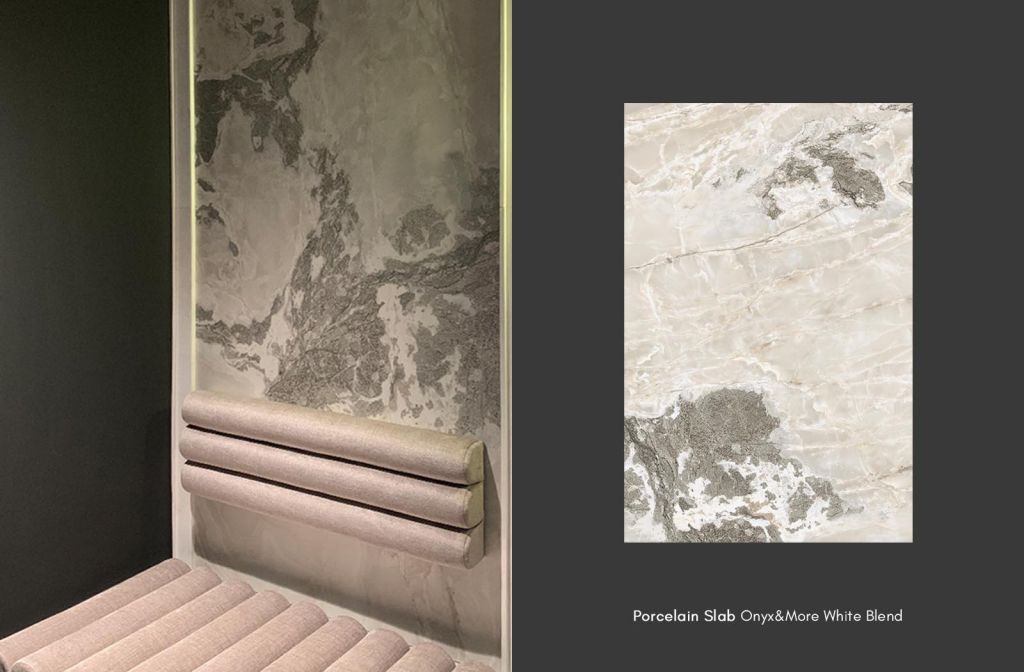 Feature Wall: Porcelain slab, Onyx&More White Blend by Florim
Onyx & More tile collections reveals the harmonious balance between elegance and creativity through the original and unusual pairing of two very different stone materials to create refined, cosy and intimate environments. Onyx& More interprets the surprising elegance of onyx, refined, lustrous and poetic, naturally enriched with inserts of porphyry, a stone material which is more discreet and informal in character.
Find out more about Onyx & More.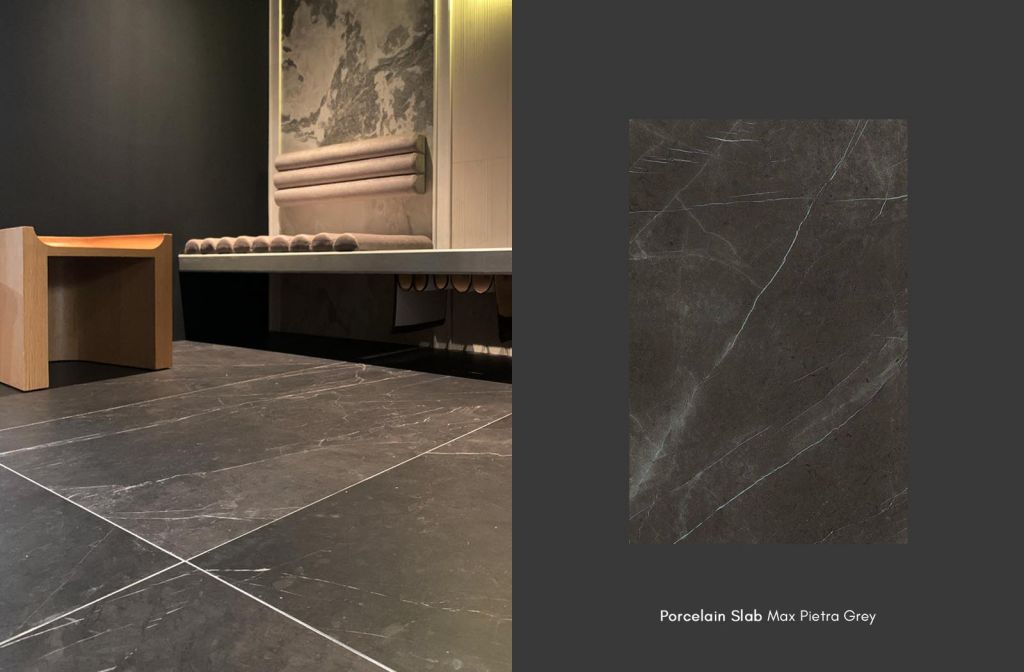 Floor: Porcelain slab, Max Pietra Grey by Fiandre

The sophisticated anthracite background colour runs through with fine, random grains adds a harmonious visual effect. An unmistakable style, superb production and high performance make Max Pietra Grey an irreplaceable surface for enhancing any architecture or interior design project. Maximum technology also allows Pietra Grey, like all the other colours in the range, to be used in conventional building contexts – floor, wall coverings and facades, as well as unique settings such as furnishings.
Find out more about Marmi Maximum.

-
The "shopping" continues at the Retail Corridor.
Explore other spaces of the new Hafary Gallery:
The Apartment - Dining + Kitchen & Study