With technological advancement, tiles are able to reproduce various textures and patterns with extraordinary realness.
From wood to stone, concrete to terrazzo, discover the various design effects that tiles are able to achieve in our latest episode of Know Your Tiles.

1. Wood Effect Tiles
Wood effect tiles reproduce the imperfections and variety of details of natural wooden planks. Ideal for creating warm, welcoming atmospheres with the benefit of easy maintenance.
Featured tile collections: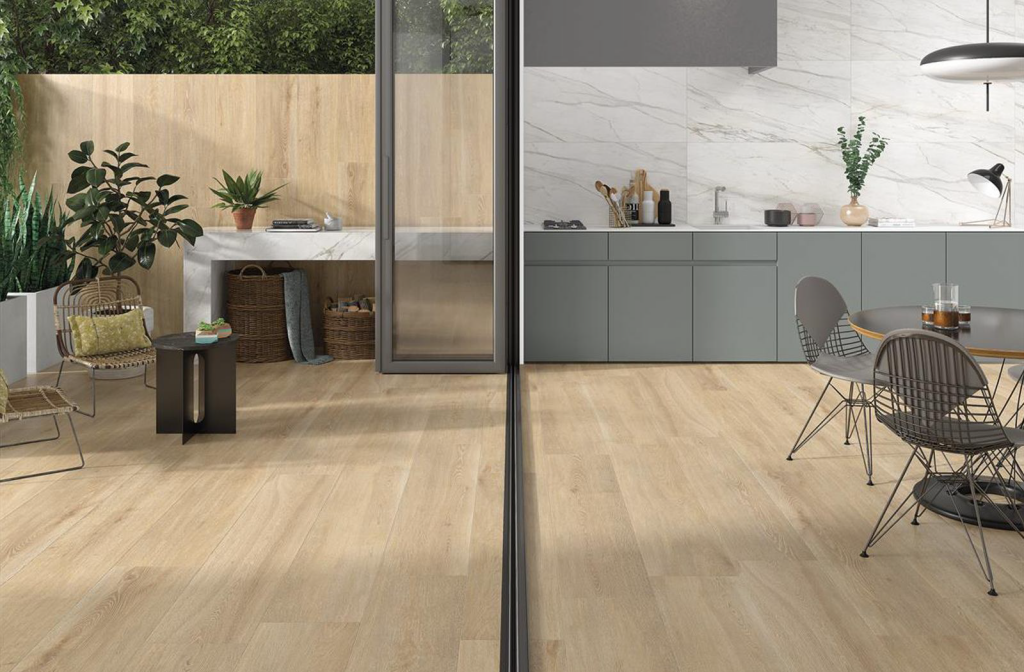 Wood effect porcelain tile collection, Tacora, showcases realistic wood veining in two different formats. In four essential colours, the collection is able to fit into most interior design schemes seamlessly.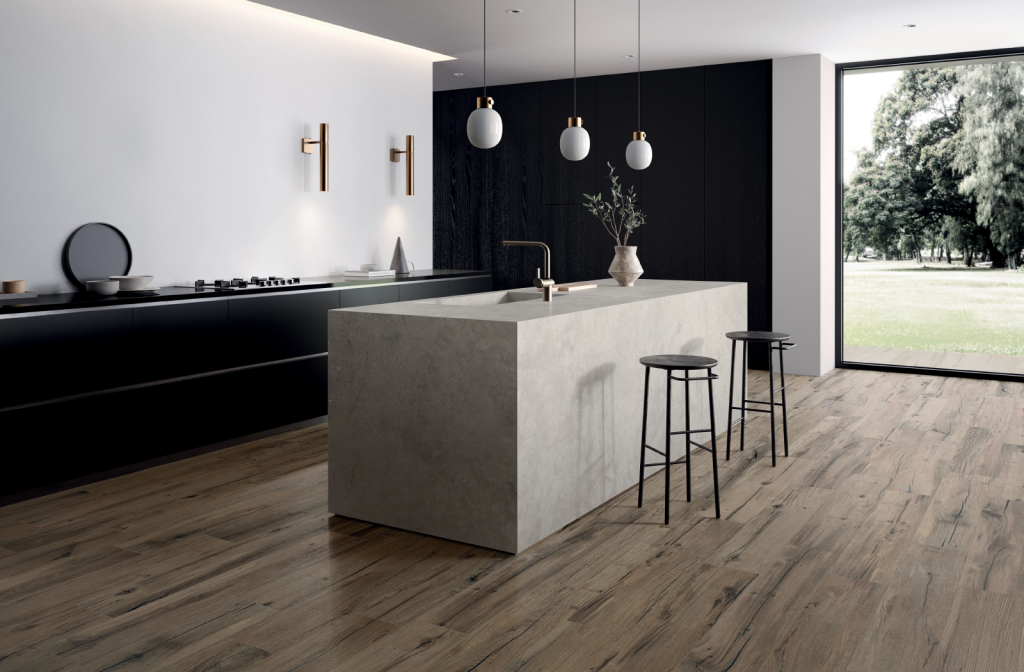 The Nordik Wood tile collection reproduces the imperfections and variety of details of reclaimed wooden planks, creating warm, authentic atmospheres that fit harmoniously into even ultra-minimalist contexts. Nordik Wood is enhanced by details that reproduce the original material with astonishing realism, such as contrasting cracks with an almost three-dimensional look.

Other wood effect tile collections: Nest, PA Red Oak, Iroveri By Home, Nebraska Colours

2. Concrete Effect Tiles
Concrete effect tiles are especially popular with industrial themed homes. The versatility and simplicity of concrete have inspired many tile collections.
Featured tile collections: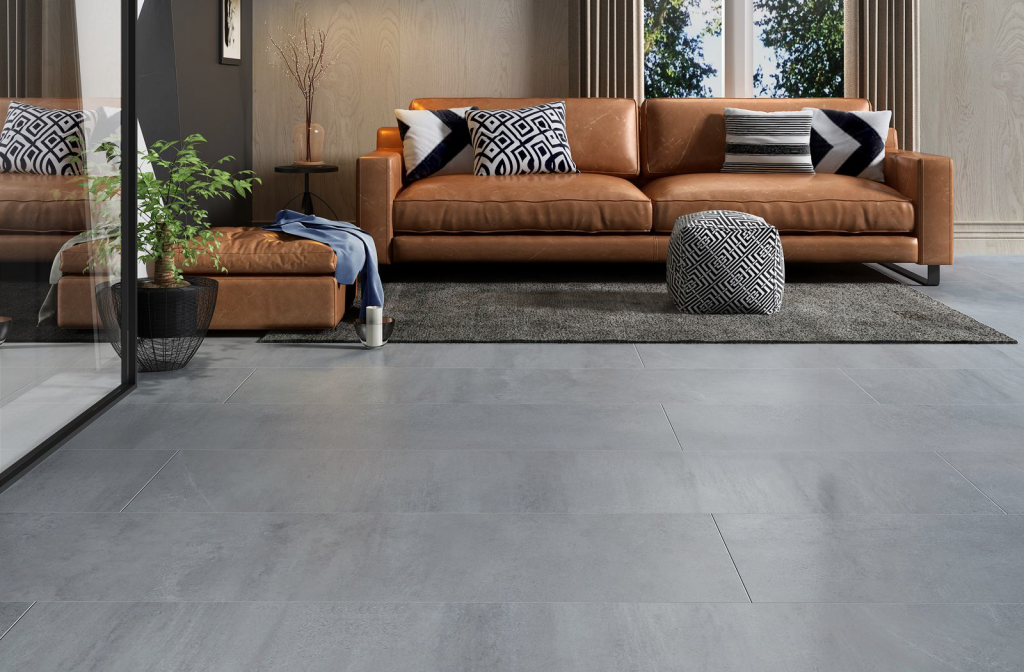 The Blue & White porcelain tile collection is inspired by industrial spaces. The collection features concrete effect tiles with 3 different finishes – NG for matte surface, S for semi-polished and RG for a textured finish.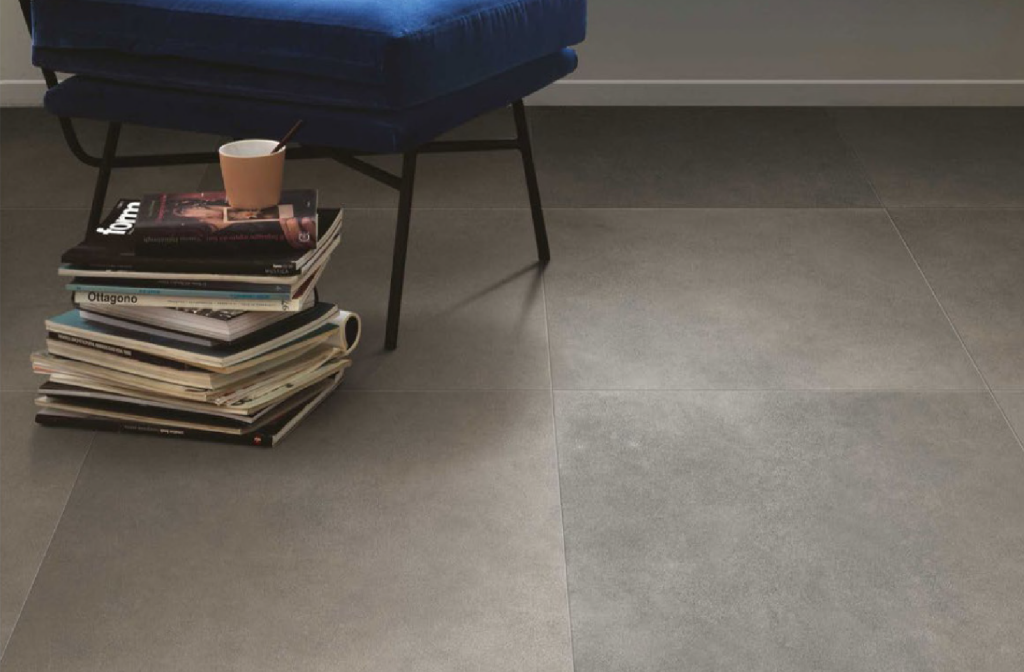 Icementi porcelain tile collection reproduces different types of concrete effect, from the most minimal to the most tactile. In a single size, the tile collection fully highlights the different surfaces named after the materials that inspired them.
Suggested concrete effect tile collections: Portland 325, Concrea, Toka, Urban
3. Glass Effect Tile
Glass effect tile reflects and emphasises light, lending its surroundings brightness with evergreen charm.
Featured tile collection: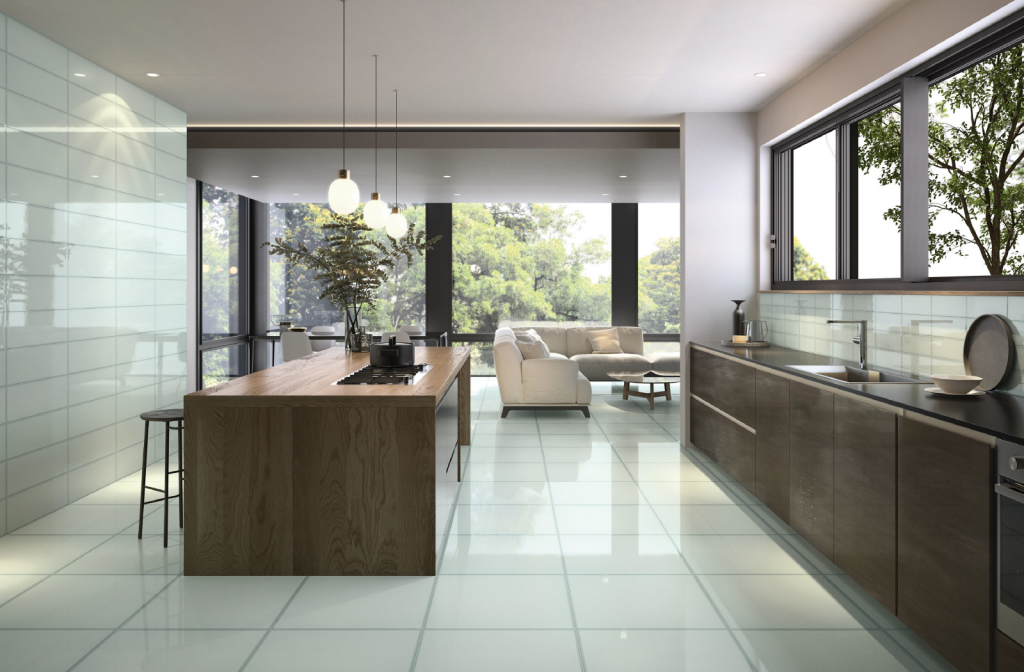 Glass is a material that offers intrinsic clarity and harmony, distinguished by its very own duplicity: transparent and matt, fragile and at the same time sturdy.
Vetri is a porcelain tile collection with a strong identity: the delicate colour variations that mark the edges create a surface with an unprecedented depth and an elegant geometrical mesh. The glossy finishing reflects and emphasises light, lending its surroundings brightness with evergreen charm.
4. Marble Effect Tiles
With profound elegance, Marble effect tiles have the ability to go together with both classic and modern spaces. Advanced technology allows the interpretation of marble with extremely high graphical definition, avoiding pattern repetition.
Featured tile collections: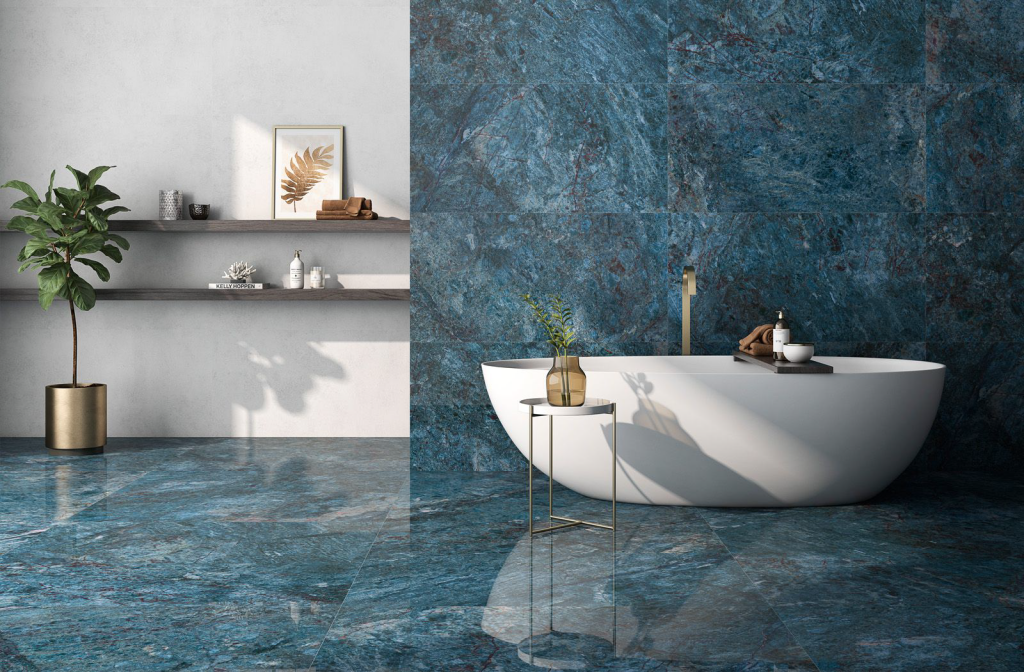 A burst of white veining set against an aquamarine background. This is Kionia, a tile series inspired by the Greek island of Panormos that will imbue any home with a sense of harmony and vitality.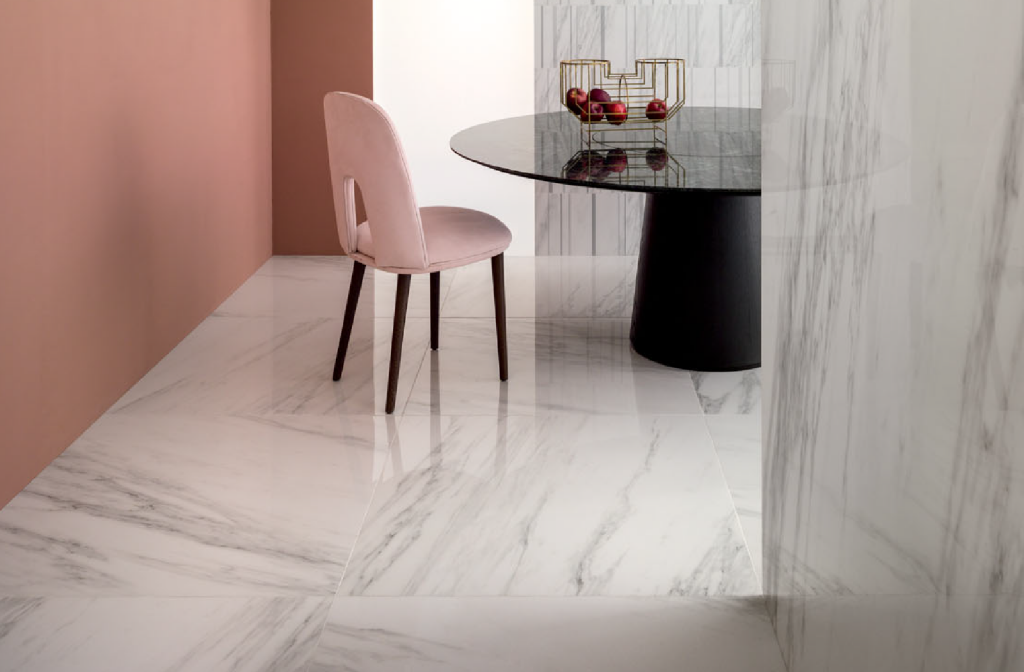 Delight was born by combining the elegance of marble with the cutting edge technology of porcelain, perfecting and bringing material strength to the delicacy of the intense veining. Furthermore, the Delight collection is now enhanced by Touch, a new surface finish.

The Delight tile collection is also empowered with PROTECT®, an exclusive antibacterial technology by the Panariagroup. Partnering with Microban®, PROTECT® is an effective antibacterial shield incorporated in the product and eliminates 99.9% of bacteria from the surface.
Similar marble effect tile collections: Stones & More 2.0, Supreme Evo, Blanc, I Colorati, Imperial Michelangelo
5. Sculpted Effect Tiles
Sculpted tiles take on a 3-dimensional aspect to add interest to walls. Tiles are often presented in neutral or mono colour to focus on their unique shapes and design.
Featured tile collections: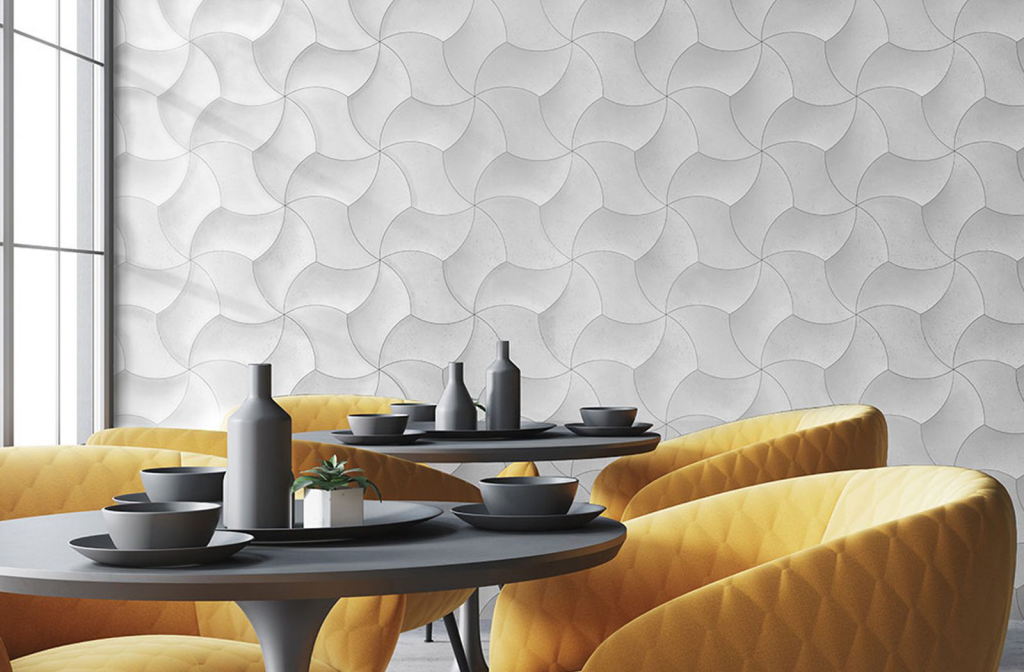 Zeta is a 3D wall tile collection that creates a unique tessellated pattern. The collection is available in three colours and is recommended for dry areas only.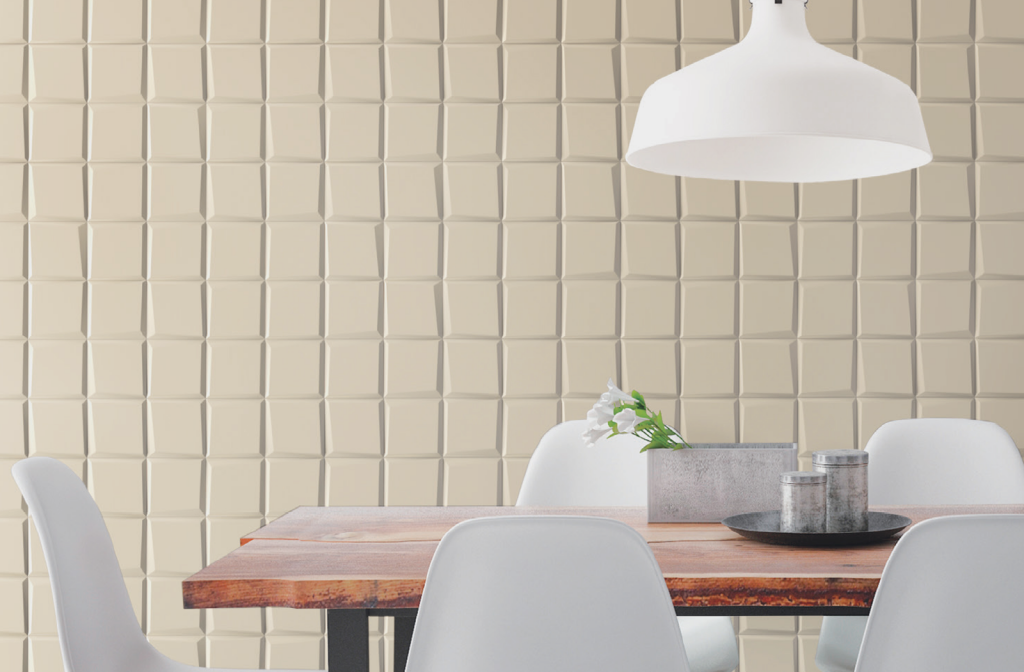 Details Light tile collection is inspired by traditional and contemporary design. A simple and sober mix that gives character to the environment, with a very pleasant neutral and pastel palette of colours that makes the living space particularly refined and valued.
You may also like: 3D Wall, Brunswick, Stonelike Wall, Dukano
6. Stone Effect Tiles
The stone effect has always been a classic design for tiles. The colours and infinite shades of natural stones give tiles a bold character.
Featured tile collections: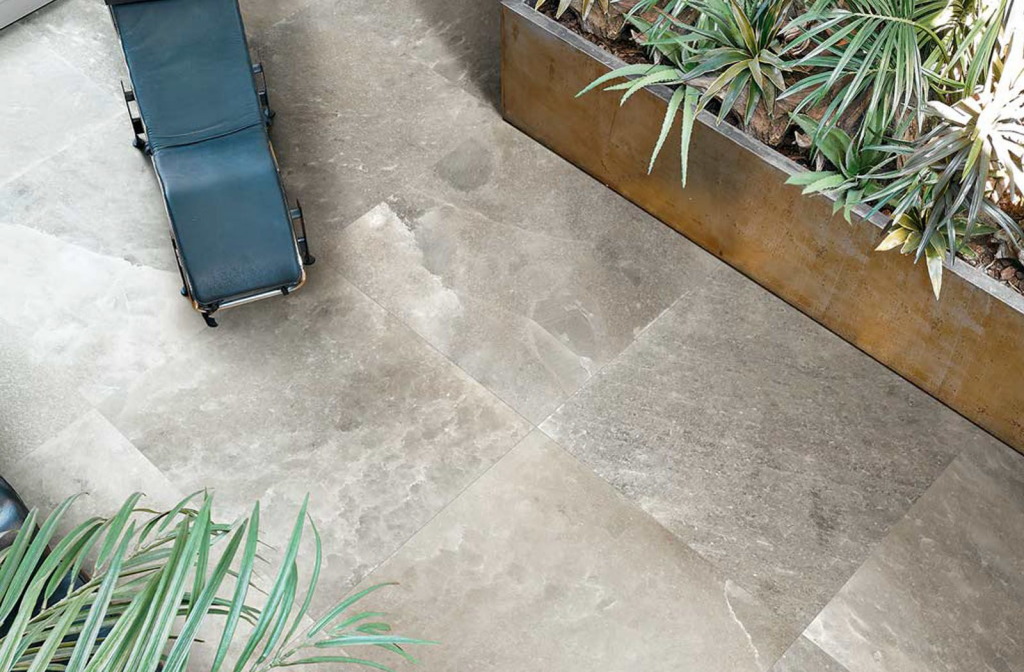 Inspired by the aesthetics of large blocks of rock salt extracted from underground mines and also used for the construction of walls and salt crystals, the Rock Salt of Cerim tile collection re-imagines the taste of an evocative naturalness capable of making living spaces contemporary.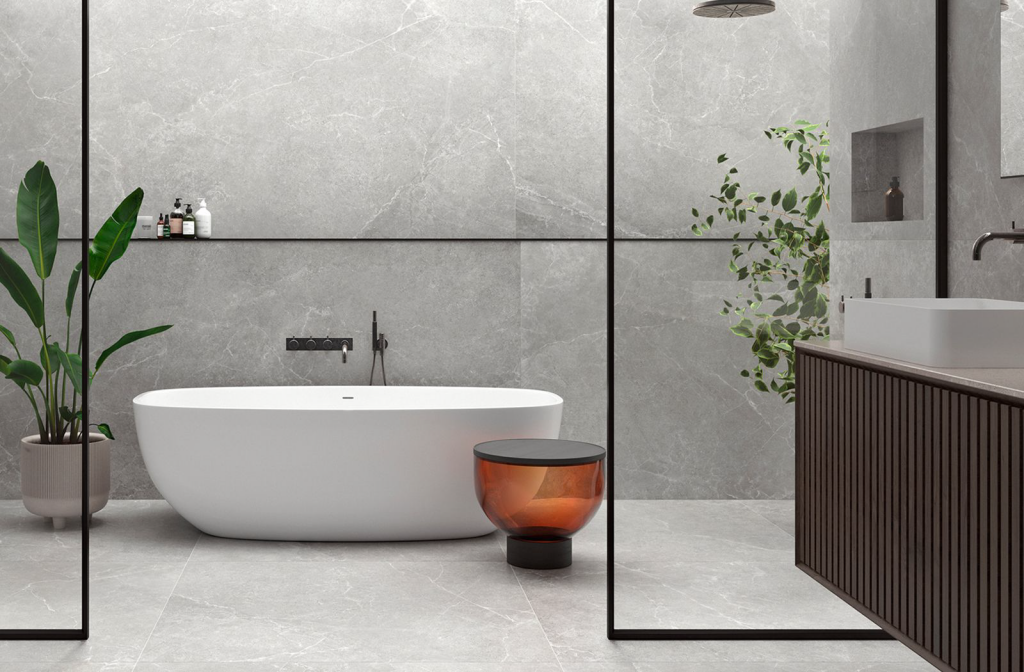 Storm is a porcelain tile collection designed for use in interiors to convey smoothness. Its structure's smooth texture is combined with a balanced design.
Similar stone effect tile collections: Stone Revolution, Aspen, Blue Savoy, Silver Grain
7. Terrazzo Effect Tiles
Created in ancient Rome by mixing marble, granite and quartz chips with cement, Terrazzo was often used for its durability and its ability to create a "design". The reinterpreted terrazzo effect porcelain tile version is suitable for a variety of interior settings, both period and modern.
Featured tile collections:
The sophistication and charm of traditional Venetian Terrazzo are brought back to life with a contemporary twist in the Flake tile collection. In Flake, the effect of irregular chips of pebbles and marble make up an even pattern packed with details. Ideal for contemporary interior design.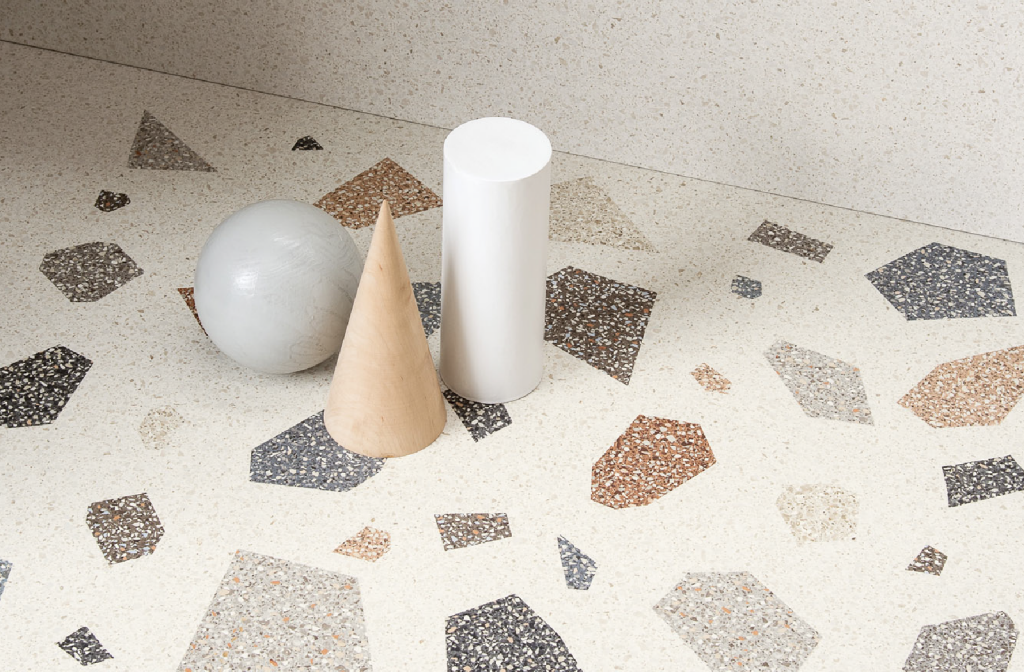 Inspired by art that was widespread from the 16th to the early 20th century, Newdeco' porcelain tile collection pays tribute to marble grit floors. Balancing geometries and colours, Newdeco' tile collection becomes the emblem of elegance typical of noble Venetian palaces or Genoese high society - true masterpieces that contain all the traditions of timeless design.
Suggested terrazzo effect tile collections: Frammenta, Stracciatella, Autore, Venezia
8. Textile Effect Tiles
The textile effect is able to achieve a soft feel to create warm and cosy environments.
Featured tile collections: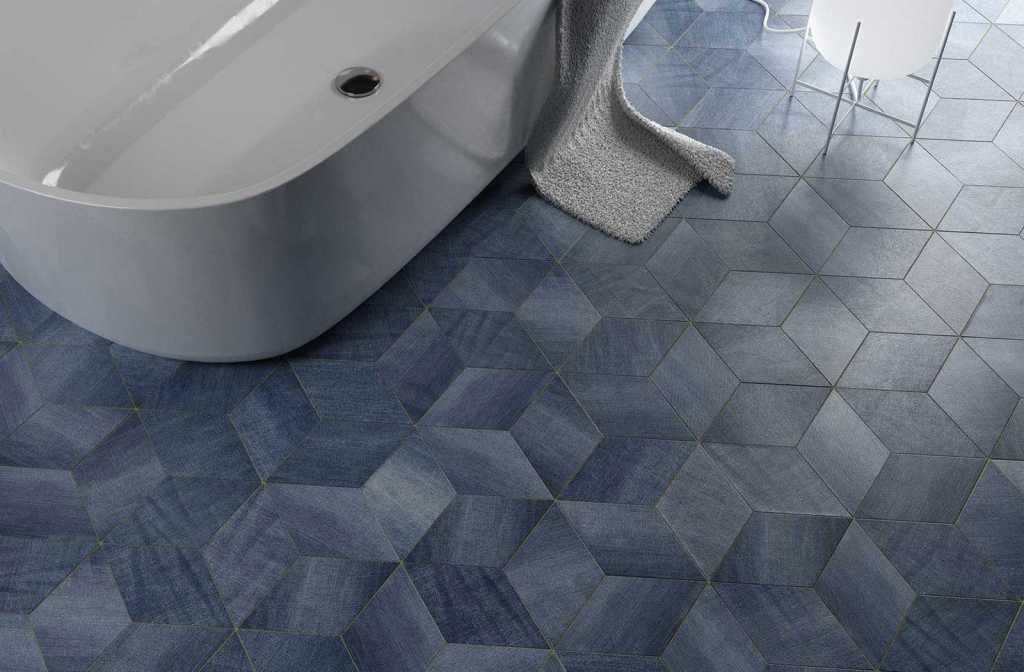 Tile collection Denim is inspired by the textile that endures all fashion trends. Featuring two combinable shapes, Diamond and Square, the tile collection showcases a unique layout pattern that is suitable for both floor and wall installation.
Fineart, one more innovative fabric porcelain tile collection, made with the ultimate generation of digital printing technique and a light three-dimensional structure. The fine texture, the soft tones and delicate melange, the small sizes such as the 20x20 - 8"x8", the sophisticated and moderate decorations, give this collection an elegant and reassuring flavour, with a sophisticated and versatile design that is tailor-made to any domestic space, as well as to all the solutions in the small business area, including, in particular, hotelier and retail.
You may also like: Habitat, Mikasa, Trame
9. Timeworn Effect Tiles
Timeworn effect tiles exude the charm of a surface that features the ravages of time and wear, creating interiors of comfort, character and style.
Featured tile collections: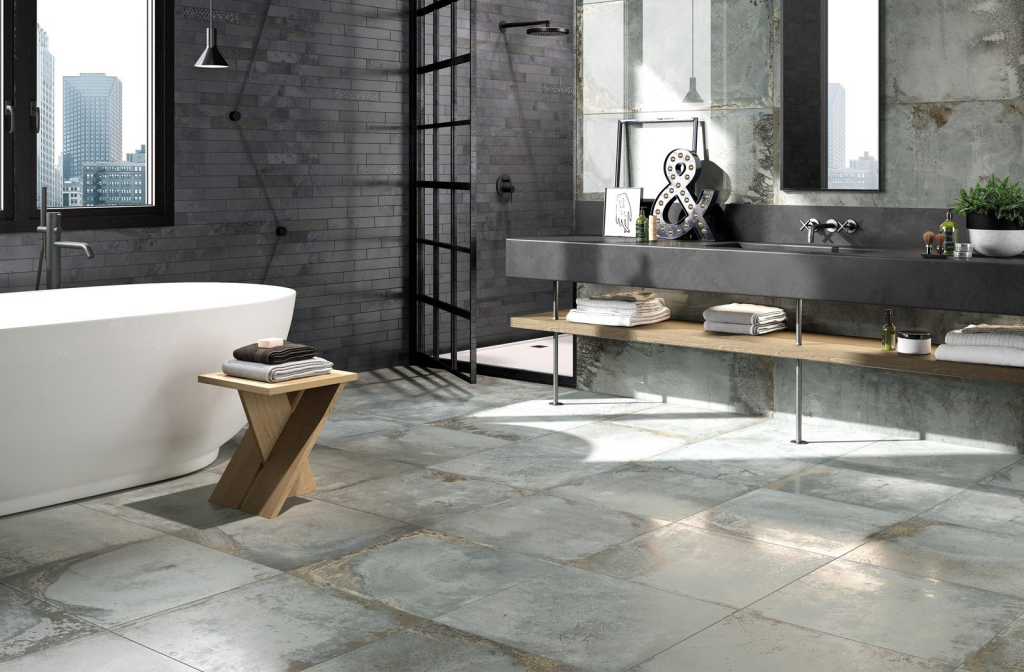 Oxyd metal-effect tiles create a very trendy look that is subtle, unusual and highly striking. The wear and tear of passing time, the effects of the oxides that attack the material, the imperfections that become characterizing motifs: all this becomes an unmistakable style, for a mix that does not go unnoticed. Modernity with even that touch of vintage that does not tire and makes the environment unique without being too eccentric. The collection is also distinguished by the new strip in 61x370mm perfect for coverings of great strength and elegance.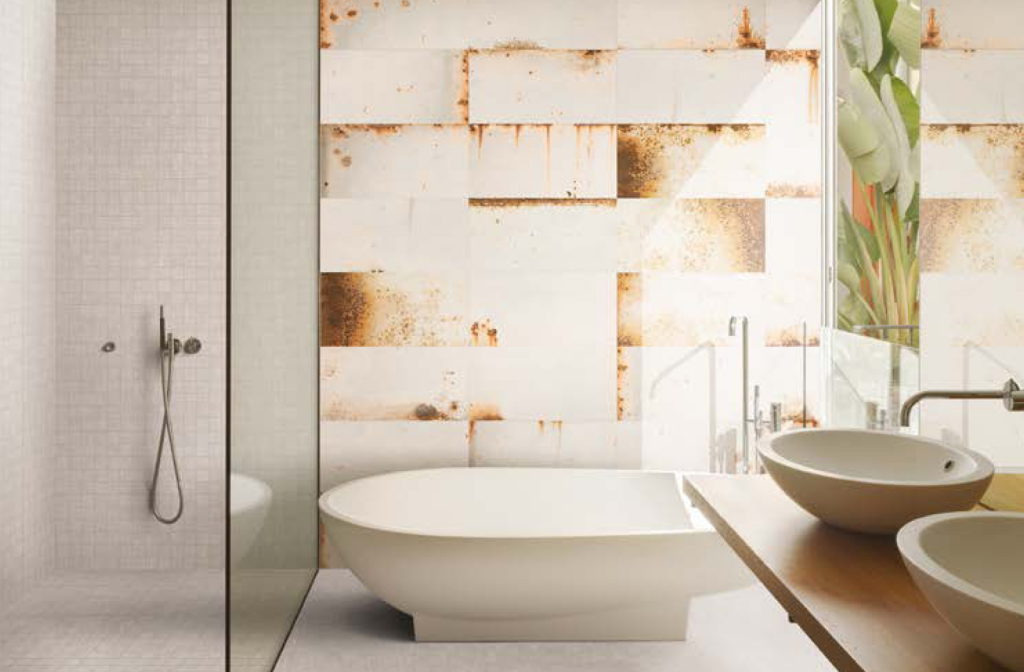 The name of the tile series emphasizes the clear intention of making metal a stylistic choice. Revival has the appearance of timeworn sheet metal, for interiors with strongly vintage, sophisticated design schemes. Metal Style is the right choice for customers who wish to amaze themselves and surprise others.
Suggested timeworn effect tile collections: Metal.It, Reactions, K.Cadmiae
Music credit: «Upbeat» from free-stock-music.com