Welcome to the new Hafary Gallery!

Come on in and we will bring you on a fantastical journey down our rabbit hole into our world of stone and tiles.
Let us show you how accessible good design is – and how easy it is to incorporate good design in your space for a better everyday life for you. Meander through our Entrance Pavilion, where a hide-and-seek arrangement of breezeblocks (sunbreaks) facilitates a layered – dare we say, flirtatious – reveal of the space and display.
A little drama goes a long way..
Inspiration
From the architects, Park + Associates
Taking inspiration from Alice falling down the rabbit hole, the Entrance Pavilion marks the start of a journey into the wonderland of stone and tiles. One is "beamed" into this dramatic prelude and greeted by a hide and seek arrangement of breezeblocks (sunbreaks) that appear to float on water (in fact metal sheers hammered to simulate ripples of water). Material wise, the opportunity was taken to explore how a single type of tile could be used in multiple ways – through the creation of layered screens, ceiling planes and furniture. Tiles are not just surface coverings; they can define space, and here they facilitate a layered and flirtatious reveal of the spaces beyond. Not to worry; you'll be transported back to you everyday reality at the end of this fantastical journey.
Space & Materials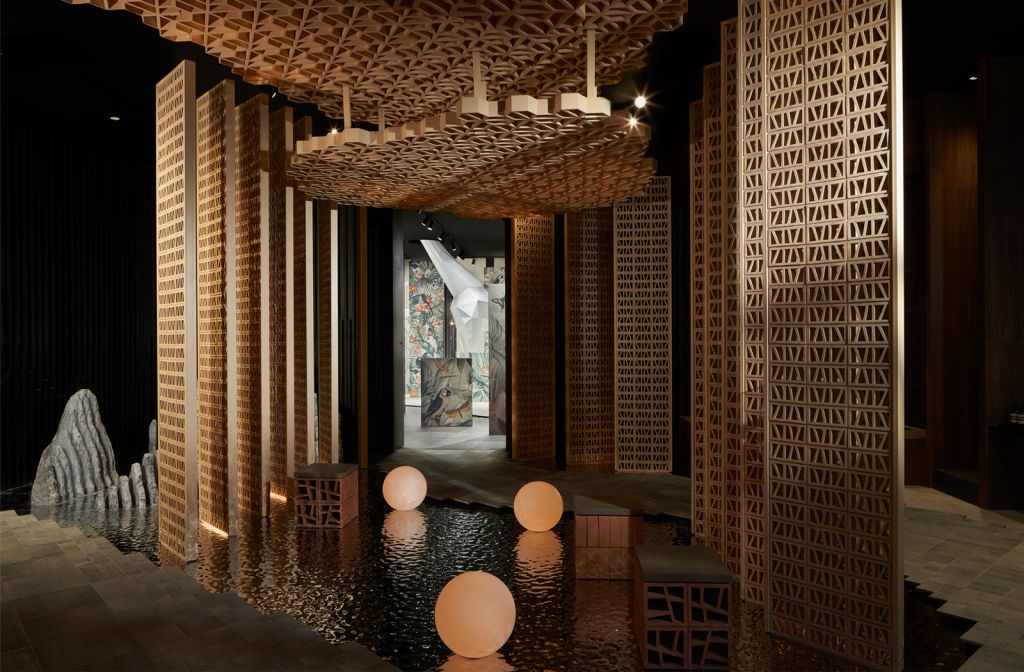 Panels: Sunbreaks Sitges Arena 14 by Ceramica Ferres, Bench: Sunbreaks Trencadis Rojo 15 by Ceramica Ferres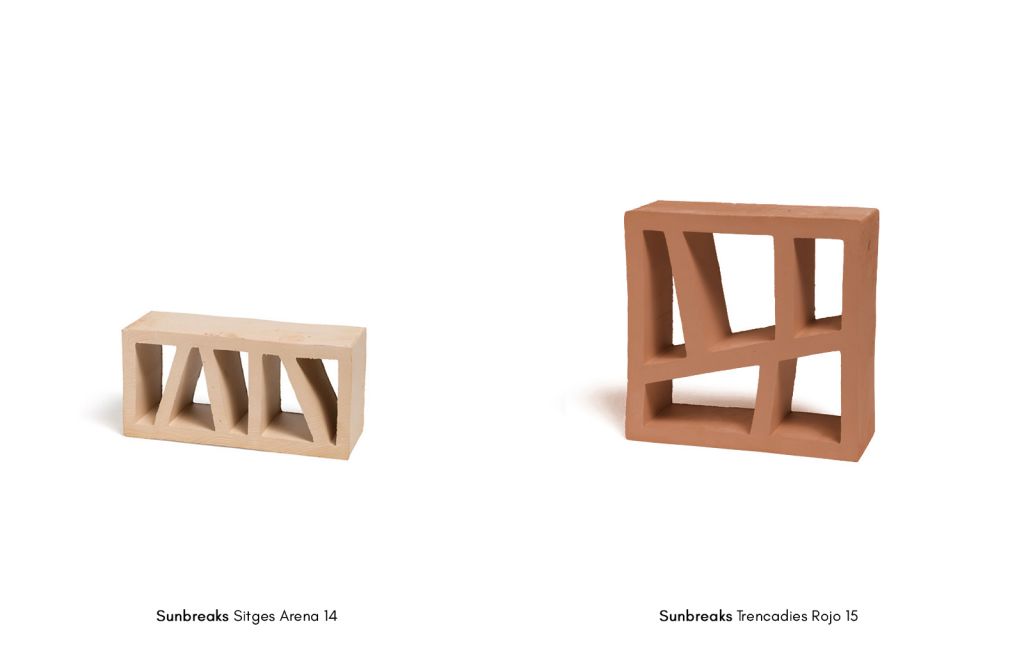 Sunbreak is a traditional resource in Mediterranean architecture used to create ventilated walls in facades or shade partitions in outdoor spaces, likewise in interior space, they can separate environments and create areas of intimacy. It also generates amazing effects of light and shadow.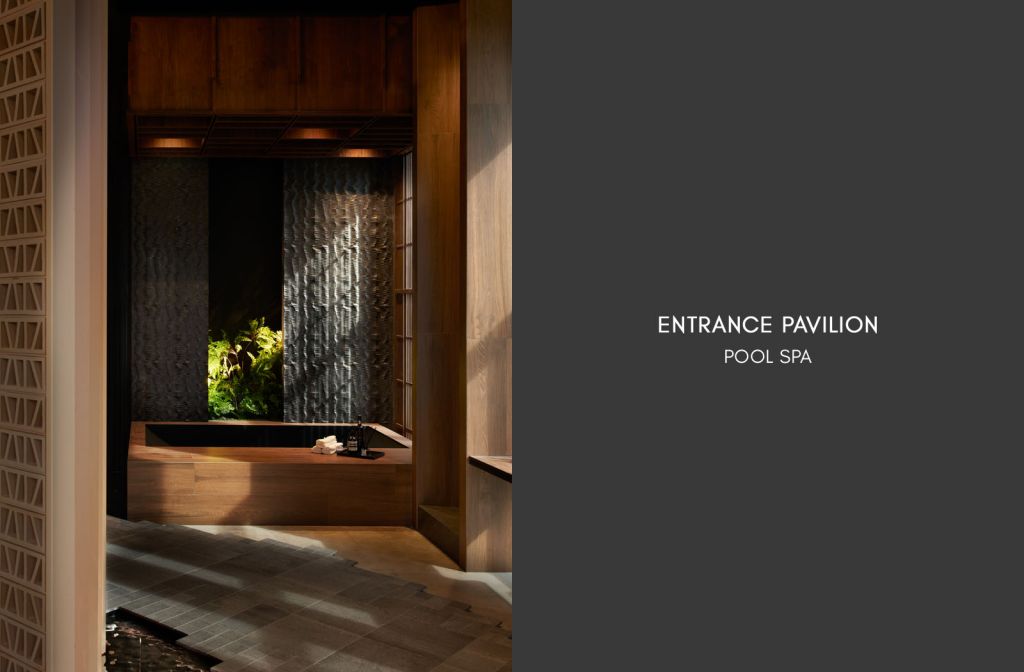 At the Pool Spa, on the walls, vanity ledge and bathtub: Porcelain plank, Tanzania Walnut Rect by Azulev
From the warm Savannah come the energy and strength of Tanzania, a fusion of different tropical woods. It is a wood effect tile collection of great richness due to its clear and neutral tones. A collection without large colour shading but grain variability, capable of adapting to any interior and exterior space and any type of decoration, from the most minimal to the most rustic and vintage.
In 25x150cm, Tanzania tile collection provides the feeling of spaciousness and unification of space. An imposing wood because of its size, but which can be a good option for both large spaces and to create small rooms but with an appearance of continuous floor. The collection features a soft relief that recalls the texture of natural wood.
Find out more about Tanzania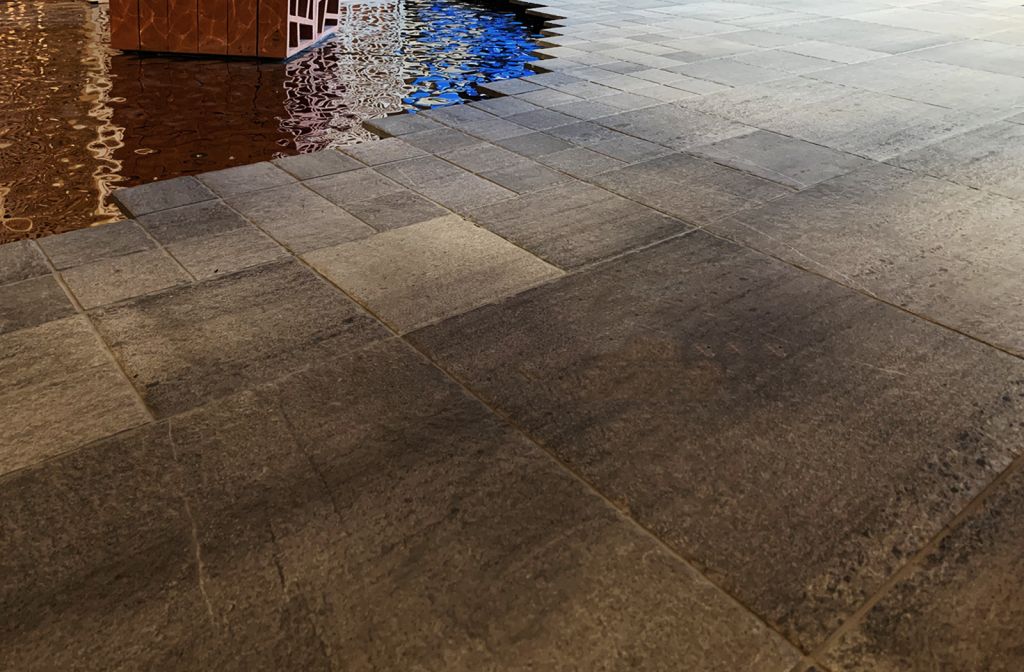 Pathway: Porcelain tile, Due Maesta by CIR
The sobriety of grey for a colour that represents the coming together of stone and ceramics. Due Maestà, found on the pathway at your feet, is a neutral shade, for timeless elegance.
The tile collection is inspired by the Due Maestà railway station. For decades, workers from Reggio Emilia headed for the Sassuolo ceramic district departs from the Due Maestà railway station, until 2015, when it was shut down. The area, which preserves the memory of entire generations, inspired a material story made of greyhued ceramic stone, simple and essential, as the railway line. Sober, minimalist elegance, perfect for modern spaces, and also suitable for enhancing vintage-style furnishings.
Find out more about Due Maesta.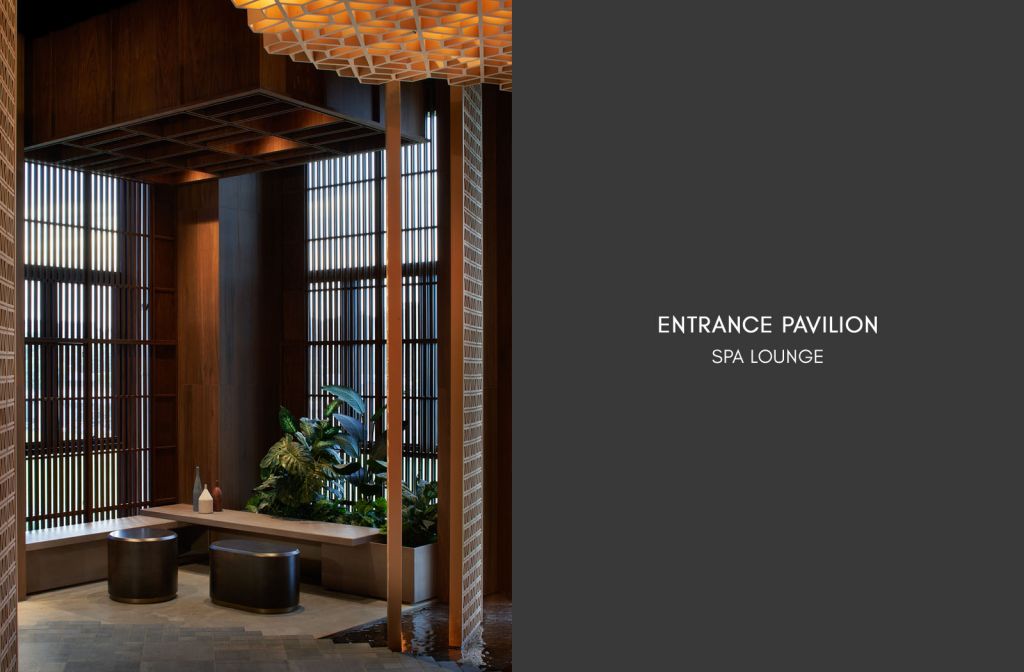 At the Spa Lounge, Bench: Porcelain slab, 6 Concrete Mud by Gigacer
Concrete, in neutral and natural shades adapts to the different needs of living. The material can be used on floors and walls and for the creation of kitchen/ bathroom tops and furniture as it is able to maintain a strong colour consistency.
Find out more about Concrete.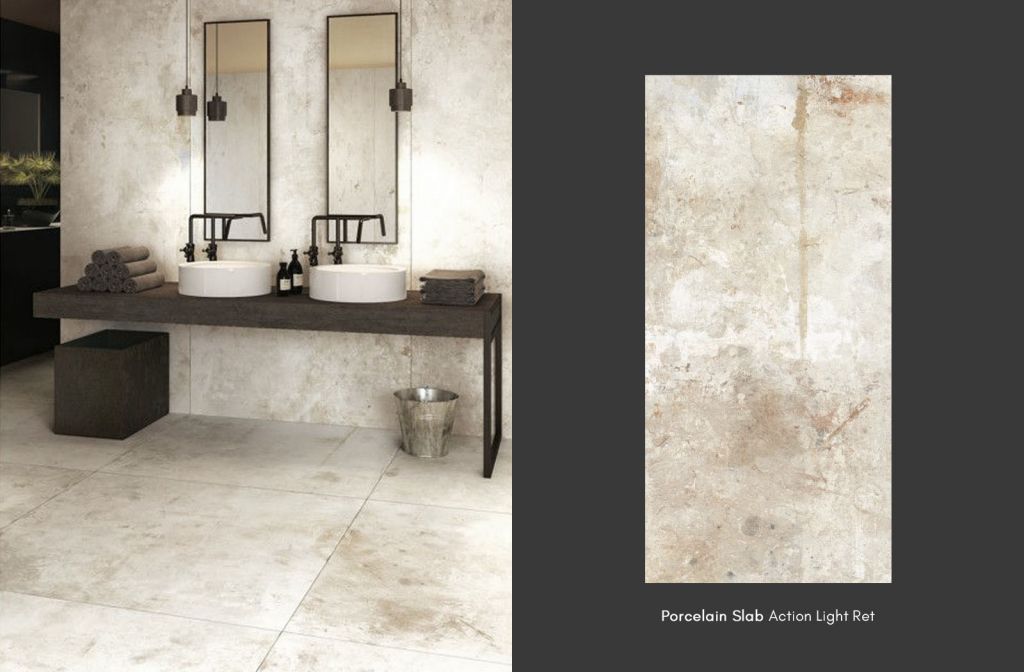 At the Spa Lounge, Floor: Porcelain slab, Action Light Ret by Fondovalle
The most artistic and indefinite expression of colour takes form in an absolutely innovative tile surface. The cement effect meets the signs of a "creative aged effect" expressed by the changes in the shades of colour that exude design, art and craftsmanship.
The beauty of hand-worked cement is revealed in a porcelain collection in large yet thin sizes – 2780 x 1200mm.
Find out more about Action.
-
Continue your journey with us at the Hall of Tiles.
Or, explore other spaces of the new Hafary Gallery:
The Apartment - Dining + Kitchen & Study